Will this series also hold have golden touch, or is it just Dio again?
Earlier today, Viz Media announced that they acquired the rights to the JoJo's Bizarre Adventure: Golden Wind anime. As of press time, no further details have been announced.
JoJo's Bizarre Adventure: Golden Wind will hit Japanese TV this October.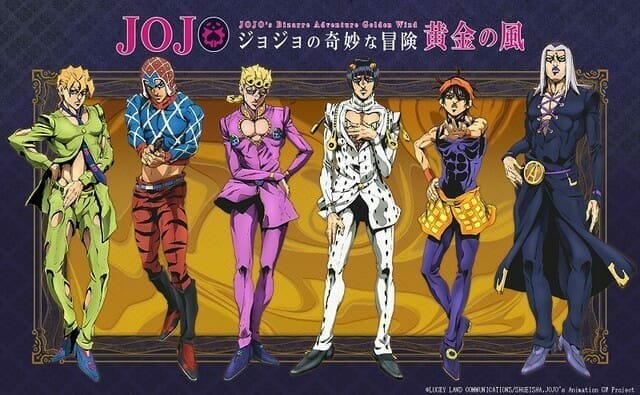 Naokatsu Tsuda (JoJo's Bizarre Adventure seasons 1-4, planetarian) will return to the franchise as chief director, with Yasuhiro Kimura (Three Leaves, Three Colors) and Hideya Takahashi (Anonymous Noise, Keijo!!!!!!!!) directing at David Production. Takahiro Kishida (Durarara!!, Puella Magi Madoka Magica) will provide character designs, while Yasuko Kobayashi (Attack on Titan, JoJo's Bizarre Adventure) returns to tackle series composition.
Other confirmed crew members include:
Animation Director: Shun'ichi Ishimoto
Stand Design: Takahito Katayama
Action Animation Director: Takahito Katayama
Prop Design: Yukitoshi Hotani
Art Setting: Kaoru Aoki
Art Setting: Junko Nagasawa
Art Setting: Reeki Taki
Color Design: Yūko Satō
Art Director: Megumi Kato
Art Director: Shunichiro Yoshihara
Director of Photography: Kazuhiro Yamada
Editor: Kiyoshi Hirose
Sound Director: Yoshikazu Iwanami
Music: Yuugo Kanno
Original Creator: Hirohiko Araki
The confirmed voice cast includes:
Narancia Ghirga: Daiki Yamashita
Leone Abbacchio: Junichi Suwabe
Pannacotta Fugo: Junya Enoki
Giorno Giovana: Kensho Ono
Guido Mista: Kousuke Toriumi
Bruno Bucciarat: Yūichi Nakamura
JoJo's Bizarre Adventure: Golden Wind is the fifth major story arc in the ongoing JoJo's Bizarre Adventure manga franchise. The arc, which ran from November 20, 1995 through April 5, 1999 in Weekly Shonen Jump, moves the setting to Italy.
The arc revolves around Giorno Giovanna ("GioGio"), the human son of Dio Brando, takes center stage this time as he attempts to overthrow the Passione mafia's boss in hopes of turning the organization into a force for good. He controls the Stand Gold Experience, which is able to imbue life into objects.
JoJo's Bizarre Adventure spawned four anime adaptations, which cover the first four arcs:
JoJo's Bizarre Adventure
Battle Tendency
Stardust Crusaders
Diamond Is Unbreakable
The most recent series, Diamond Is Unbreakable, ran through December 2016. A Diamond Is Unbreakable live-action film hit Japanese theaters in August 2017.
Source: Twitter (VizMedia)