Truly, Kyoto Animatin wants everybody to know the love of pretty swimmer boys.
Earlier today, Kyoto Animation started streaming a Free! special on their YouTube channel. The 24-minute episode recaps the events of the previous titles in the franchise, starting with Free! Iwatobi Swim Club and ending with the Free! Timeless Medley and Take Your Marks films.
Free! Dive to the Future hits Japanese TV on July 11. ABC, Tokyo MX 1, BS-11, and TV Aichi will carry the series. The full broadcast schedule is as follows:
ABC: 7/12/2018 at 26:43 (7/13/2018 at 2:43AM)
Tokyo MX1: 7/11/2018 at 24:00 (7/12/2018 at Midnight)
TV Aichi: 7/11/2018 at 26:05 (7/12/2018 at 2:05AM)
BS11: 7/12/2018 at 24:00 (7/13/2018 at Midnight)
For the ABC run, subsequent episodes will air on Wednesdays at 26:15 (Thursdays at 2:15AM). A special program will air a week before the première in the same time slot.
Eisaku Kawanami (Free! -Take Your Marks-, Free! -Timeless Medley-) will return to the director's chair for Free! Dive to the Future at Kyoto Animation and Animation DO. Futoshi Nishiya (Free! franchise, A Silent Voice) will reprise his role as character designer, while Masahiro Yokotani (Free! – Iwatobi Swim Club, Re:ZERO -Starting Life in Another World-) returns to tackle series composition.
Other confirmed crew members include:
Chief Animation Director: Futoshi Nishiya
Art Director: Shingo Kasai
Color Design: Yūka Yoneda
3D Director: Yuji Shibata
3D Art: Joji Unoguchi
Prop Design: Seiichi Akitake
Director of Photography: Kazuya Takao
Music: Tatsuya Kato
Sound Director: Yota Tsuruoka
Sound Production: Lantis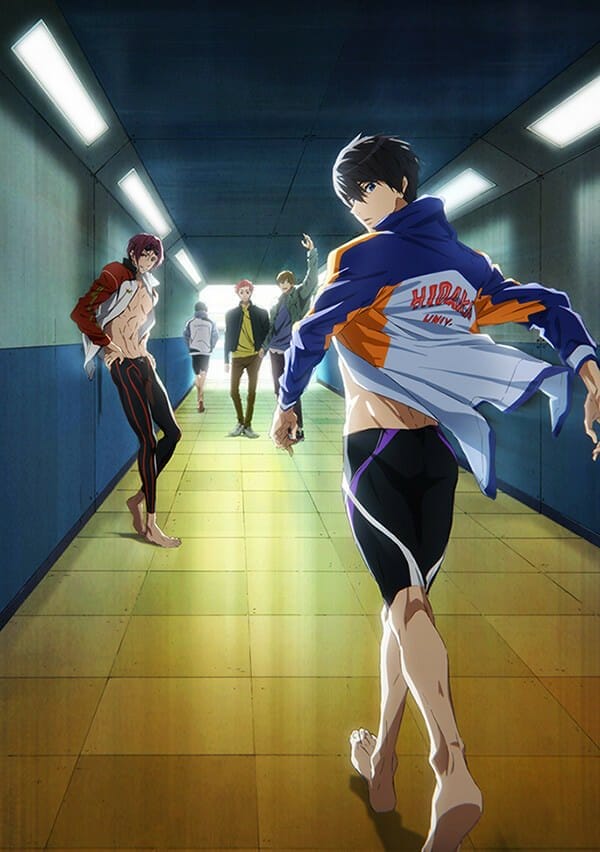 The confirmed team members are all returning from previous installments of the Free! anime franchise.
OLDCODEX will perform opening theme song Heading to Over. Style Five, which is composed of the five main voice cast members, will perform ending theme song Gold Evolution.
The confirmed voice cast includes:
Rei Ryugazaki: Daisuke Hirakawa
Rin Matsuoka: Mamoru Miyano
Haruka Nanase: Nobunaga Shimazaki
Makoto Tachibana: Tatsuhisa Suzuki
Nagisa Hazuki: Tsubasa Yonaga
Momotarō Mikoshiba: Kenichi Suzumura
Aiichirō Nitori: Kouki Miyata
Ikuya Kirishima: Kouki Uchiyama
Asahi Shiina: Toshiyuki Toyonaga
Sōsuke Yamazaki: Yoshimasa Hosoya
Natsuya Kirishima: Kenji Nojima
Hiyori Toono: Ryohei Kimura
Nao Serizawa: Satoshi Hino
Ayumu Kunikida: Ryou Hirohashi
Romio Hayahune: Atsushi Abe
Shizuru Isurugi: Yoshitsugu Matsuoka
Crunchyroll will stream Free! -Dive to the Future- on their digital platform, while Funimation produces a SimulDub. Funimation describes the show as:
Your favorite swimming boys are back and ready to race towards their dreams! But what will happen when the boys face unexpected reunions?
Source: Ota-suke