Trust me, it's not "Saekano: She, the Ultimate Weapon." (…yes, this is a pun that reaches back)
Earlier today, light novel fans gathered at the "Fantasia Bunko Big Thanksgiving Day 2018" fan event. During the show, the main cast and crew for the upcoming Saekano: How To Raise a Boring Girlfriend sequel film were revealed, along with a key visual. The movie's title, Saenai Heroine no Sodate-kata fine was also revealed.
An official website for the project opened its doors shortly afterwards.
We break the details down below.
Key Visual
The new image features a shot of Megumi Katō from behind. She's standing among the cherry blossoms as petals swirl around her.
Staff
Akihisa Shibata will direct the project at CloverWorks, with Kanta Kamei (Bunny Drop, Dimension W) serving as chief director. Tomoaki Takase (Occultic;Nine, Fate/Grand Order: Zettai Majū Sensen Babylonia) will provide character designs, while Fumiaki Maruto (White Album 2, Phantom in the Twilight) writes the film's script.
Cast
The confirmed voice cast includes:
Megumi Katō: Kiyono Yasuno
Tomoya Aki: Yoshitsugu Matsuoka
Eriri Spencer Sawamura: Saori Ōnishi
Utaha Kasumigaoka: Ai Kayano
Michiru Hyōdō: Sayuri Yahagi
Izumi Hashima: Chinatsu Akasaki
Iori Hashima: Tetsuya Kakihara
All confirmed cast members are reprising their roles from the TV series.
Saenai Heroine no Sodate-kata fine will hit Japanese theaters in Fall 2019.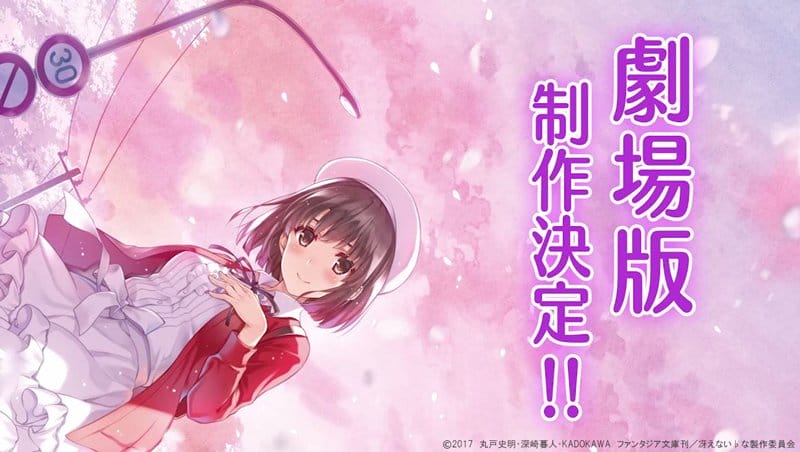 Saekano: How to Raise a Boring Girlfriend began airing in the Winter 2015 season on Fuji TV's Noitamina block. The Kanta Kamei (Bunny Drop, Dimension W) directed the project at A-1 Pictures, while Tomoaki Takase provided character designs. Fumiaki Maruto wrote the screenplay for the show.
Aniplex of America acquired the domestic rights to Saekano: How To Raise A Boring Girlfriend. They describe the show as:
One day, an otaku high school student Tomoya Aki has a fateful encounter with a girl amidst the beautiful cherry blossom trees. This meeting inspires Tomoya to design his very own "gal-game"(dating-simulation video game) featuring a heroine modeled after the girl he saw. In order to make his desire a reality, Tomoya must persuade a few eccentric "creators" such as the ace member of the art club, Eriri Spencer Sawamura and the school's top student, Utaha Kasumigaoka to join his development team. Meanwhile, Tomoya is shocked to learn that the girl he idolized as his muse for this whole project was none other than his boring classmate, Megumi Kato!

But, this doesn't dissuade Tomoya. He is determined to give Megumi a total make-over within his game and raise her to be the absolute girlfriend that every man desires…!
Source: Comic Natalie