Remember Toji no Miko? It's back! In miniature form!
Earlier today, the official Katana Maidens: Toji no Miko anime website announced that the title will get a bite-sized spinoff series, titled Mini Toji. The main cast and crew, plus two trailers and a visual were revealed. We break the details down below.
Trailers
Two teasers were revealed: one short, one long. They both follow the same base progression, with Kanami and Hiyori being converted to their chibi forms and expressing confusion. The longer teaser opens with a brief narrated introduction.
Short Trailer
Long Trailer
Visual
The image features the main cast in their chibi forms, playing on the hiragana for "Toji".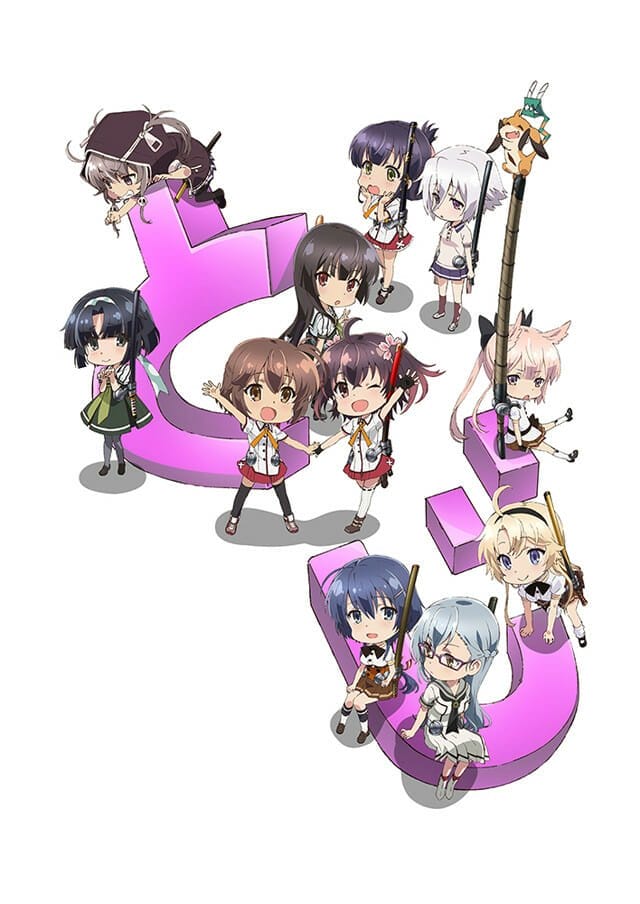 Staff
Yuu Nobuta (High School Fleet, A Good Librarian Like a Good Shepherd) will direct the project at studio Project No. 9, with Aoi Akashiro (Classroom of the Elite, Killing Bites) taking charge of series composition. Hiroshi Ogata (Magic Kaito 1412) will perform double duty as character designer and animation director.
Cast
The confirmed voice cast includes:
Kanami Etō: Kaede Hondo
Hiyori Jūjō: Saori Ōnishi
Mai Yanase: Azumi Waki
Kaoru Mashiko: Risae Matsuda
Erin Kohagura: Eri Suzuki
Kiyoka Musumi: Akane Fujita
Chie Setouchi: Kaori Ishihara
Mihono Asakura: Himika Akaneya
Kofuki Shichinosato: Hiromi Igarashi
Sayaka Itomi: Hina Kino
Miruya Kitora: Manami Numakura
Mini Toji will air on January 2019.
The original Toji no Miko anime aired in the Winter 2018 broadcast season. Koudai Kakimoto (Cyborg 009: Call of Justice) was tapped to direct the show at Studio Gokumi, while Yuuko Yahiro (Attack on Titan: Junior High, Diabolik Lovers) provided character designs. Tatsuya Takahashi (Eromanga Sensei, Pandora in the Crimson Shell: Ghost Urn) was in charge of series composition.
Crunchyroll streamed the show as it ran in Japan. They describe it as:
Since the ancient times, the Kannagi priestesses have used their swords, or Okatana, to exorcise the creatures known as Aratama that brought chaos upon the world of man. These maidens were known as Tojis, a special task force within the police allowed to have their Okatana on their person because they are government officials, but they mostly consist of school girls who go to one of five training schools. This spring, the top Tojis from five schools across the country have been gathered for a customary tournament where they will use their abilities and fight for the top position.
Source: Comic Natalie