Finally, we can see this generation of knights in action!
On November 30, the official Saint Seiya: Saintia Shō anime website updated with a new teaser trailer. The 83-second promo uses character dialogue to drive the major story beats, and introduce the major cast members.
Saint Seiya: Saintia Shō will launch on December 10, on Amazon Prime Video's SkyPer! Anime Set channel. The title will launch on Animax on December 24, followed by dTV's dAnimax service on January 5, 2019.
The Animax on PlayStation 4 App will also carry the show starting on December 10, with the first three episodes launching on the same schedule as Amazon Prime.
Masato Tamagawa (Nurse Witch Komugi) will direct the project at Gonzo, with the team of Keiichi Ishikawa and Ayana Nishino (Hitorijime My Hero) providing character designs. Ikuko Takahashi is in charge of series composition.
Toshihiko Sahashi will score the soundtrack, while Toei Animation is listed as production and planning.
Aina Suzuki, M.A.O., Inori Minase, and Megumi Nakajima will perform opening theme song The Beautiful Brave. Suzuki and M.A.O. will perform the closing theme Hohoemi no Resonance (Smile Resonance).
M.A.O. will also perform a character song for Evil Goddess Eris, titled Arasoi Shiniyukumono-tachi ni Shukufuku O (Battle to those Who Fought And Vanished).
A CD single with all three songs will ship to stores on December 26.
The series will star the following:
Shōko: Aina Suzuki
Kyōko: M.A.O
Saori: Inori Minase
Mii: Megumi Nakajima
Scorpio Milo: Toshihiko Seki
Leo Aiolia: Hideyuki Tanaka
Gemini Saga: Ryotaro Okiayu
Ursa Minor: Suzuko Mimori
Elda of Cassiopeia: Ayana Taketatsu
Northern Crown: Yukiko Morishita
Mayura / Pavo: Rina Satou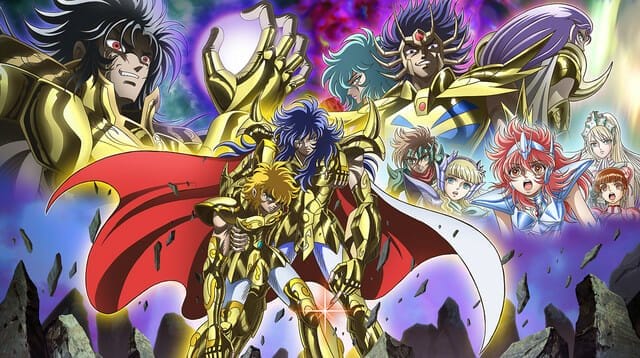 Suzuki, M.A.O. and Minase are reprising their roles from previous drama CDs based on the franchise. Megumi Nakajima is replacing Pile, who played Mii in the CDs.
Chimaki Kuori's Saint Seiya: Saintia Shō manga originally launched in the pages of Akita Shoten's Champion Red magazine in August 2013. The series currently spans eleven compiled volumes, with the most recent hitting stores on February 20.
Seven Seas currently holds the rights to the manga in North America. They describe the title as:
In the wake of a space-wide civil war instigated by Saga–the Gemini Gold Saint–a new team of Saints comes together with the goal of protecting their goddess Athena. This first all-woman team of armored warriors, powered by the Zodiac, will use their cunning, strength, and compassion to defend their worlds and oppose their very destinies.
Source: Ota-suke