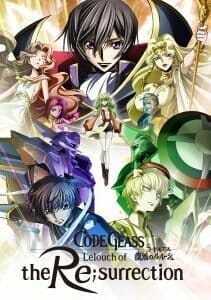 Earlier today, Funimation revealed the English dub cast for anime film Code Geass: Lelouch of the Re;surrection. The film will star the following:
Lelouch: Johnny Yong Bosch
C.C.: Kate Higgins
Suzaku: Yuri Lowenthal
Shalio: Jared GIlmore
Shesthaal: Rich Sommer
Bitool: English: Christopher R Sabat
Shamna: Elizabeth Maxwell
Forgner: Patrick Seitz
Qujappat: Gabe Kunda
Nunnally: Rebecca Forstadt
Kallen: Karen Strassman
Lloyd: Liam O'Brien
Sayoko Shinozaki: Kim Mai Guest
Code Geass: Lelouch of the Re;surrection will make its North American debut at Anime Boston 2019. The film will be shown on April 20, at 3:00PM Eastern.
Goro Taniguchi (Gun x Sword, Planetes) directed the film at Sunrise, with Takahiro Kimura (Dirty Pair Flash, SD Gundam Force) providing character designs. Ichiro Okouchi (Azumanga Daioh, Guilty Crown) wrote the movie's script.
Funimation describes Code Geass: Lelouch of the Re;surrection as:
He gave up his life to save the world and protect the ones he loved. The day Lelouch vi Brittannia fell was the day this war-torn world found peace. Now, as his friends work to keep the peace, a terrorist attack could risk everything. Can the brilliant tactician outwit death and save them all? Or will Lelouch's legacy fall here?
Source: Twitter (Funimation)