Earlier today, the official Astra Lost in Space anime website updated with a new teaser trailer. The 105-second promo gives a brief look at the show in action, using character dialogue and a narrator to set the stage.
Theme song star*frost by nonoc kicks in at the 55-second mark.
Astra Lost In Space hits Japanese TV on July 3. The full premiere schedule is as follows (All times JST):
AT-X: 7/3/2019 at 21:00 (7/3/2019 at 9:00PM)
Tokyo MX: 7/3/2019 at 25:05 (7/4/2019 at 1:05AM)
TV Aichi: 7/3/2019 at 26:35 (7/4/2019 at 2:35AM)
KBS Kyoto: 7/3/2019 at 25:05 (7/4/2019 at 1:05AM)
Sun TV: 7/3/2019 at 25:30 (7/4/2019 at 1:30AM)
BS11: 7/3/2019 at 25:30 (7/4/2019 at 1:30AM)
Masaomi Ando (School-Live!, Scum's Wish) will direct the series at Lerche, with Keiko Kurosawa (Scum's Wish, Asobi Asobase -workshop of fun-) providing character designs. Norimitsu Kaihō (Kaiju Girls, Magical Girl Spec-Ops Asuka) is in charge of series composition for the project.
The confirmed voice cast includes:
Kanata Hoshijima: Yoshimasa Hosoya
Aries Spring: Inori Minase
Zack Walker: Shunsuke Takeuchi
Quitterie Raffaëlli: Tomoyo Kurosawa
Funicia Raffaëlli: Hina Kino
Luca Esposito: Risae Matsuda
Ulgar Zweig: Kouki Uchiyama
Yun-Hua Lu: Saori Hayami
Charce Lacroix: Nobunaga Shimazaki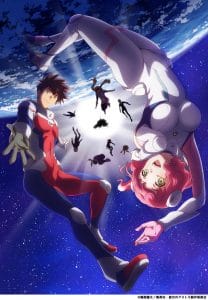 Kenta Shinohara's Astra Lost in Space launched in Shueisha's Shonen Jump+ in May 2016. The series, which ran through December 30, 2017, spans five compiled volumes.
Viz Media holds the rights to the title, which they describe as:
What starts as a pleasant class trip to a planet five light-years away from Earth becomes a nightmare survival trip back home from 5,000 light-years away.

It's the year 2063, and interstellar space travel has become the norm. Eight students from Caird High School and one child set out on a routine planet camp excursion. While there, the students are mysteriously transported 5,000 light-years away to the middle of nowhere! Will they ever make it back to Earth?!

It's the first day of Planet Camp, and Aries Spring couldn't be more excited! She, along with eight other strangers, leave for Planet McPa for a weeklong excursion. Soon after they arrive, however, a mysterious orb appears and transports them into the depths of space where an unknown spaceship awaits them.
Source: Comic Natalie