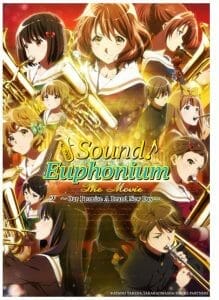 On June 26, Eleven Arts announced their English dub cast for Sound! Euphonium: The Movie – Our Promise: A Brand New Day. The film will star the following:
Kumiko Oumae: Erica Mendez
Reina Kousaka: Laura Post
Sapphire Kawashima: Kavlii Mills
Hazuki Katou: Jennifer Losi
Kanade Hisaishi: Christine Marie Cabanos
Mirei Suzuki: Katelyn Gault
Satsuki Suzuki: Xanthe Hyunh
Motomu Tsukinaga: Lucien Dodge
Sound! Euphonium: The Movie – Our Promise: A Brand New Day will hit North American theaters in July. Two screenings for the film are planned:
7/11/2019 (Subtitled)
7/14/2019 (Dubbed)
The film opened in Japan on April 19.
Tatsuya Ishihara (Clannad After Story, Love, Chunibyo & Other Delusions) directed the project at Kyoto Animation. Jukki Hanada (Love Live! School idol project, A Place Further Than the Universe) wrote the film's script, while Shoko Ikeda (The Melancholy of Haruhi Suzumiya franchise) returned to provide character designs. Akito Matsuda (D-Frag!, The Kawai Complex Guide to Manors and Hostel Behavior) scored the feature's soundtrack at Lantis.
Eleven Arts describes the feature as:
While Sound! Euphonium's "Liz and the Blue Bird" explored the relationship of bandmates Mizore and Nozomi and took on a radical new art style, "Our Promise: A Brand New Day" returns to Sound! Euphonium's familiar style and the story of franchise protagonist Kumiko Oumae, now in her second year of high school. Follow Kumiko as she takes on the role of mentor towards the incoming class of new members of the Kitauji High School concert band club as the group aims to take the gold at the National Championship competition.