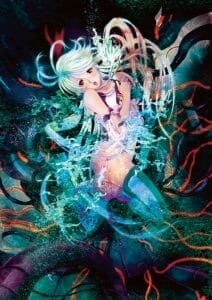 Earlier today, AnimEigo's Kickstarter to produce a Blu-Ray version of Megazone 23 reached its $100,000 funding goal. The campaign launched on August 17 at 5:00PM Eastern, making time-to-goal just twenty-seven hours.
As of press time, the campaign stands at $100,198 across 656 backers, with an average contribution of $152.74 per backer. As of press time, AnimEigo holds the rights to Megazone 23 in the United States, though they are attempting to acquire Canadian and European rights for the title.
If funded, the Blu-Ray will include uncompressed Japanese (stereo) audio, as well as ADV Films' English 5.1 dub track. Bonus features will include:
Trailers
ADV Films' commentary featuring Matt Greenfield, David Williams and Janice Williams
Nine-Panel poster insert
100+ Page Production Artbook (Premium Edition Only)
Moreover, the Kickstarter page highlighted several stretch goals in the pipeline, listing the following, specifically:
The following features are listed as Stretch Goal incentives:
$125,000: Japanese commentary featuring Gaku Miyao and Hiroki Sato
$150,000: Use of Haruhiko Mikimoto's "Eve" painting, which was created for the Japanese Blu-Ray release
$175,000: Eight-page Megazone 23 manga created and illustrated by Gaku Miyao
$200,000: New "cell-art" Eve artwork created by Haruhiko Mikimoto for the set, which will be used in the packaging and as a giclée canvas print.
$250,000: Haruhiko Mikimoto's "cell-art" will be upgraded to a painting, similiar in complexity to artwork used in the Japanese Blu-Ray
The Kickstarter stated that the following items are pending, due to licensing and materials concerns. While AnimEigo would like to include the items, they have not been officially confirmed as of press time:
A series of music videos featuring Kumi Miyasato that were included in the Japanese release
The Streamline Pictures English dub of Megazone 23 Part I
The Manga Entertainment English dub of Megazone 23 Part III
Megazone 23 is a four-episode OVA series, which first hit Japanese retailers in March 1985. The title saw four directors across the project: Noboru Ishiguro (The Super Dimension Fortress Macross: Do You Remember Love?, Space Battleship Yamato), Ichiro Itano (Gantz, Angel Cop), Kenichi Yatagai (Bubblegum Crisis, Tenchi Muyo! Ryo Ohki), and Shinji Aramaki (Appleseed, Madox-01).
The title is the first financially successful OVA to be released in Japan (and the 13th overall).
ADV Films previously released the title in North America, which they described as:
Street racer Shogo Yahagi's having a lousy week. The military's after him, the government can't help him and his new set of wheels is so hot that it may cost him his life! And that's only the beginning of his problems; the world that Shogo and his friends have lived in for their entire lives isn't even real, and now their only hope is an artificial intelligence that may or may not be telling them the truth about the fate of the human race!
Source: Kickstarter