Earlier today, the official Drifting Dragons Twitter account updated with a new teaser trailer. The 30-second promo previews Tomoaki Maeno's performance as Mika.
【キャラ映像公開 第1弾】
龍の肉を美味しく食べることが何よりも優先で、無茶な行動に出ることも多い、ミカ(CV.#前野智昭)のキャラ映像が解禁!さらに本アカウントをフォロー&このツイートをRTで前野智昭さんのサイン入り色紙を抽選で1名様にプレゼント!#空挺ドラゴンズ pic.twitter.com/WHOsUJD2NL

— アニメ「空挺ドラゴンズ」公式 2020年1月放送開始! (@kuteidragons_PR) October 16, 2019
Drifting Dragons is slated to air in January 2020. The series will air on Fuji TV's +Ultra block. Netflix will stream the title worldwide as a Netflix Original
Tadahiro Yoshihira was tapped to direct the project at Polygon Pictures, with Makoto Uezu (Assassination Classroom, KonoSuba – God's blessing on this wonderful world!!) taking charge of series composition. Katsura Yokoyama will score the show's soundtrack.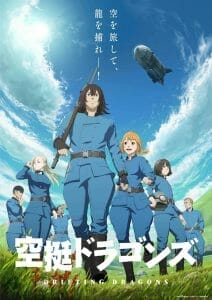 The confirmed voice cast includes:
Takita: Sora Amamiya
Mika: Tomoaki Maeno
Giraud: Sōma Saitō
Vanabelle: Kana Hanazawa
Gibbs: Junichi Suwabe
Crocco: Tomokazu Seki
Niko: Takahiro Sakurai
Berko: Kousuke Toriumi
Capella: Rie Kugimiya
Gaga: Kentarō Kumagai
Faye: Makoto Furukawa
Badakin: Takashi Matsuyama
Oken: Shunsuke Takeuchi
Soraya: Yūto Uemura
Mayne: Chinatsu Akasaki
Hiro: Junya Enoki
Yoshi: Kazuhiko Inoue
Lee: Hiroo Sasaki
Taku Kuwabara's Drifting Dragons manga launched in the pages of Kodansha's Good! Afternoon magazine in June 2016. The series currently spans six compiled volumes, with Volume 7 slated to ship to stores on November 7.
Kodansha Comics holds the rights to the title, which they describe as:
The draking vessel Quin Zaza soars through the skies, hunting dragons that hide in the clouds. A single big catch means full coffers and all the meat they can eat, while failure means an empty wallet and an even emptier stomach. Join us as we log the crew's grand adventures, chasing dreams of the sky, dragons, and gourmet cooking!
Source: Comic Natalie