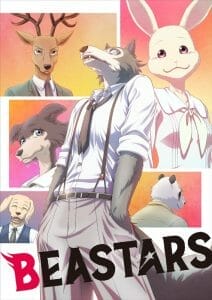 Earlier today, Netflix took to Twitter to announce that Beastars will hit their platform in early 2020. In a response to a tweet by voice actor Benjamin Diskin, the platform's official account posted "Guess it's not too early to tell you it's coming first thing 2020 then…"
As of press time, no further details have been confirmed.
Beastars started airing on October 9.
Shinichi Matsumi is directing the project at Orange, with Nao Ootsu providing character designs. Nanami Higuchi is in charge of series composition for the show.
Paru Itagaki's Beastars manga launched in the pages of Akita Shoten's Weekly Shōnen Champion magazine. Fourteen volumes of the title have hit stores to date, with the most recent shipping on July 8.
Viz Media currently holds the rights to the title, which they describe as:
At a high school where the students are literally divided into predators and prey, it's personal relationships that maintain the fragile peace. Who among them is a Beastar—an academic and social role model destined to become a leader in a society naturally rife with mistrust?
Source: Twitter (NXOnNetflix)