On November 16, J-Novel Club announced that they will launch a new publishing imprint, named "Heart." The label will be devoted to shojo titles when it officially kicks off. In addition, J-Novel Club revealed three new acquisitions, which will launch the Heart imprint, as well as two titles that are in final negotiations:
Tearmoon Empire by Nozomu Mochitsuki and Illustrator Gilse
The Tales of Marielle Clarac by Haruka Momo and IllustratorMaro (Final Negotiations)
The Bibliophile Princess by Yui and Illustrator Satsuki Shiina (Final Negotiations)
I Refuse to Be Your Enemy! by Kanata Satsuki and Illustrator Mitsuya Fuji
The White Cat's Revenge as Plotted from the Dragon King's Lap by Kureha and Illustrator Yamigo
復讐 (Title Not Final)
Tearmoon Empire
Tearmoon Empire launched under TO Books' main imprint on June 10. Two volumes have hit stores to date, with the most recent shipping on November 9.
J-Novel Club describes the title as:
Surrounded by the hate-filled gazes of her people, the selfish princess of the fallen Tearmoon Empire, Mia, takes one last look at the bleeding sun before the guillotine blade falls…

Only to wake back up as a twelve-year-old! With time rewound and a second chance at life dropped into her lap, she sets out to right the countless wrongs that plague the ailing Empire. Corrupt governance? Check. Border troubles? Check. Natural calamities and economic strife? Check.
My, seems like a lot of work.

Hard work and Mia don't mix, so she seeks out the aid of others, starting with her loyal maid, Anne, and the brilliant minister, Ludwig. Together, they strive day and night to restore the Empire. Little by little, their tireless efforts begin to change the course of history, pushing the whole of the continent toward a new future.

And why did the selfish princess have a change of heart, you ask? Simple—she didn't. She's just terrified of the guillotine. They hurt like hell, and Mia hates pain more than work.

Lazy, selfish, and a complete coward, the ill-equipped princess of the Tearmoon Empire, armed with memories of her past life and a diary from the future, tries to avoid dying at the guillotine again and changes the very course of history in the process!
The Tales of Marielle Clarac
Ichijinsha launched The Tales of Marielle Clarac under their main label on March 2, 2017. The series spans seven volumes to date, with the most recent shipping to stores on November 2.
J-Novel describes the series as:
As a plain, unassuming noble's daughter, Marielle doesn't stand out in high society. Imagine her surprise when she receives a marriage proposal from the sought-after Simeon, second-in-command of the Royal Order of Knights!

Simeon, the heir to an earldom, is highly accomplished in scholarly and military arts—and he's gorgeous. So why did he propose to such an unremarkable noblewoman?

Despite being a target of envy and scorn, Marielle is happy. After all, Simeon seems to be exactly her type: a dashingly handsome man with glasses who appears gentle on the outside, but who has a dark and scheming side!

Welcome to Marielle's world, where people aren't always what they seem—and a prim, proper exterior can hide the heart of a sly and devious fangirl!
The Bibliophile Princess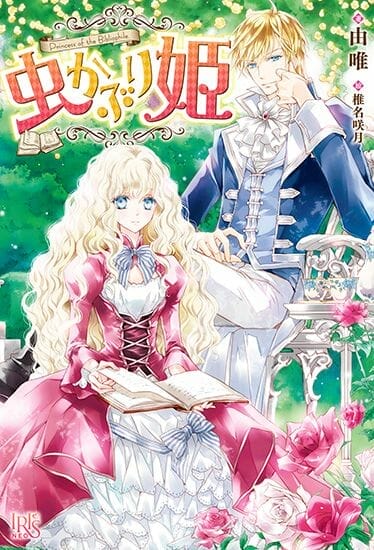 The Bibliophile Princess debuted under Ichijinsha's main label on July 1, 2016. The series spans five volumes to date, with the latest shipping to stores on July 2.
J-Novel Club describes the title as:
When book-loving Lady Elianna spots Prince Christopher—her betrothed in name only—consorting with another noble lady, she realizes the recent rumors must be true. The prince has someone he truly loves, which means the annulment of their engagement is both inevitable and fast-approaching. What she doesn't realize is that this is merely a surface ripple—one of many where the truth runs deep, in a conspiracy surpassing her imagination!
I Refuse to Be Your Enemy!
I Refuse to Be Your Enemy! launched on September 25, 2015 by Shufu to Seikatsusha. The title spans six volumes, with the final book shipping on August 25, 2017.
J-Novel Club describes the series as:
From an early age, Kiara has been plagued with dreams of another world—dreams in which a girl she doesn't recognize plays a strategy RPG called "Farzia: Kingdom at War." Farzia is, in fact, the same kingdom where Kiara currently lives. Oh, and one other thing: there's an enemy character who's also named Kiara, though her name is Kiara Credias. Naturally, as with any other RPG villain, this enemy is slayed by the heroes.

So when her adoptive father, Count Patriciél, orders her to marry Viscount Credias, Kiara comes to a horrifying realization: perhaps those "dreams" were visions of things to come! She hatches a plan to get the hell out of dodge and create a new future for herself—one where she STAYS ALIVE, thank you very much!
The White Cat's Revenge as Plotted from the Dragon King's Lap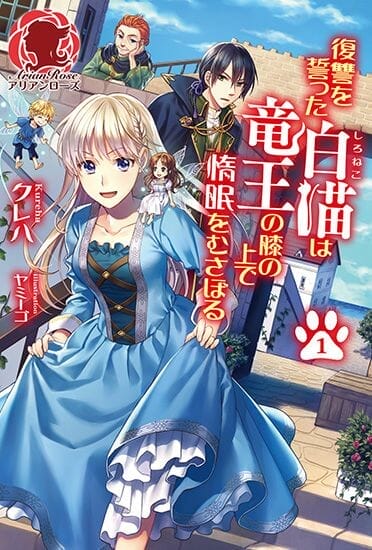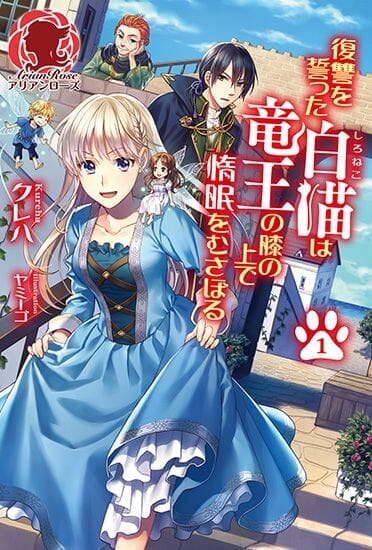 The White Cat's Revenge as Plotted from the Dragon King's Lap launched under Frontier Works' main label on October 12, 2016. The series spans five volumes to date, the latest of which hit stores on July 12, 2018.
J-Novel Club describes the title as:
Nineteen-year-old Ruri Morikawa gets wrangled into a messy situation when her selfish childhood friend strands her in another world! To make matters somehow worse, a mysterious conspiracy then gets her abandoned in a perilous forest.

Through an unexpected turn of events, she comes into possession of a mystical bracelet that allows her to transform into a white cat. Now that she's in the Land of the Dragon King, she must hide the fact that she's human—which means spending her days as a little white cat, for the time being… But how will she exact her much-earned revenge against those who've wronged her while stuck in the form of a small, fluffy, cuddly kitty cat?!
Source: J-Novel Club (Email Communication)