On December 6, Crunchyroll started streaming a behind-the-scenes documentary for the Food Wars! anime series. The 42-minute promo features footage of the production process for the series at J.C. Staff, as well as numerous interviews with more than a half-dozen staffers. The interview segments include commentary by the following:
Original Author: Yuko Tsukuda
Director: Yoshitomo Yonetani
Writer: Shogo Yasukawa
Animation Producer: Atsushi Fujishiro
Art Director: Koichiro Bizen
Food Setting: Dayna Akahara
Special Effects: Miho Kimura
CGI Director: Shunsuke Kasuga
Color Setting: Yukiko Ito
Food Wars! The Fourth Plate started airing on October 11. Yoshitomo Yonetani is directing the new season at J.C. Staff, with Tomoyuki Shitaya providing character designs. Shogo Yasukawa is in charge of series composition for the project.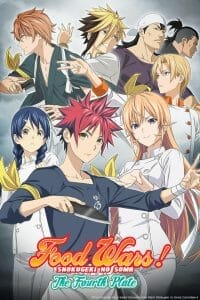 Crunchyroll is streaming the title as it airs in Japan, and describe it as:
Shokugeki no Soma centers on Yukihira Soma, a middle school student who is determined to surpass his father's culinary skills. One day, his father decides to close down their family restaurant and hone his skills in Europe. Before leaving he enrolls Soma in an elite culinary school that is extremely difficult to enter with a graduation rate of only 10 percent. Will Soma be able to improve his skills, or will the kitchen prove to be too hot?
Source: YouTube (Crunchyroll)