M-O-N-S-T-E-R! Monsters, monsters, yes, we…
Strike that… wrong franchise!
The wraparound on the seventh volume of Monster Musume (Monster Musume no Iru Nichijō ) revealed that a TV adaptation of the series was green-lit for production.
The book is bundled with a flyer that re-confirms the news, while also revealing that the series will hit Japanese airwaves in July 2015. In addition, the flier includes the first key visual for the show, which we've provided below.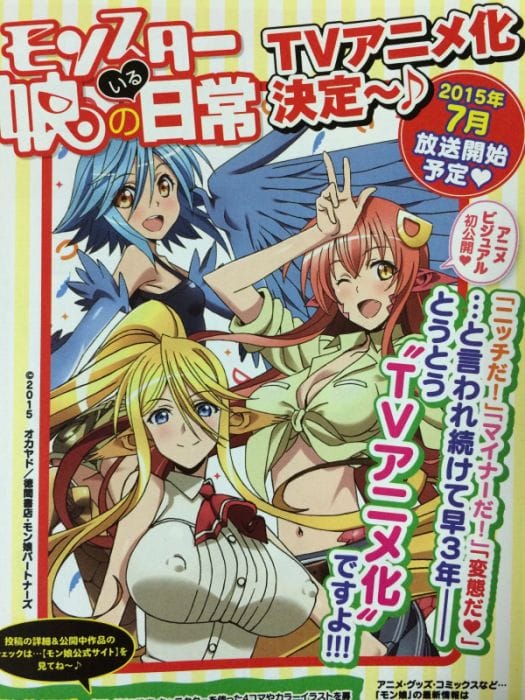 Monster Musume will be based on Okayado's manga of the same name. Seven Seas currently publishes the series in North America. The company released the sixth volume to stores on March 3.
Seven Seas's official manga synopsis is as follows:
Monsters: they're real, and they want to date us!

Three years ago, the world learned that harpies, centaurs, catgirls, and all manners of fabulous creatures are not merely fiction; they are flesh and blood – not to mention scale, feather, horn, and fang. Thanks to the "Cultural Exchange Between Species Act," these once-mythical creatures have assimilated into society, or at least, they're trying.

When a hapless human teenager named Kurusu Kimihito is inducted as a "volunteer" into the government exchange program, his world is turned upside down. A snake-like lamia named Miia comes to live with him, and it is Kurusu's job to take care of her and make sure she integrates into his everyday life.

Unfortunately for Kurusu, Miia is undeniably sexy, and the law against interspecies breeding is very strict. Even worse, when a ravishing centaur girl and a flirtatious harpy move in, what's a full-blooded teenage human with raging hormones to do?!
Source: Anime News Network