School is in session. The classes? Hard labor, and an hour in the yard.
Earlier today, a press conference was held to reveal the staff and voice cast for the upcoming Prison School anime series. The conference, which was held at Kodansha's headquarters, was broadcasted live on streaming service NicoNico.
The full cast is as follows:
Kiyoshi Fujino: Hiroshi Kamiya (Attack on Titan)
Takehito "Gakuto" Morokuzu: Katsuyuki Konishi (Tengen Toppa Gurren Lagann)
Shingo Wakamoto: Kenichi Suzumura (Mobile Suit Gundam SEED Destiny)
Jouji "Joe" Nezu: Daisuke Namikawa (The Heroic Legend of Arslan)
Reiji "Andre" Ando: Kazuyuki Okitsu (Arpeggio of Blue Steel -Ars Nova-)
Mari Kurihara: Sayaka Ohara (ARIA The Animation)
Meiko Shiraki: Shizuka Ito (To Heart 2)
Hana Midorikawa: Kana Hanazawa (Oreimo)
Prison School will be directed by Tsutomu Mizushima (Shirobako) at J.C. Staff. Junichiro Taniguchi (Monthly Girls' Nozaki-kun) is providing character designs, and Michiko Yokote (Love Stage!!) is handling Series Composition.
The opening and closing themes, Ai no Prison (Prison of Love) and Tsumibukaki Oretachi no Sanka (A Hymn For The Sinful Among Us), respectively, will be performed by Kangoku Danshi. The group is a new unit, composed of the five leading male actors.
The show's staff also unveiled a new key visual for the series, and designs for each of the main characters. We've provided the visual below, and the character designs at the end of the article.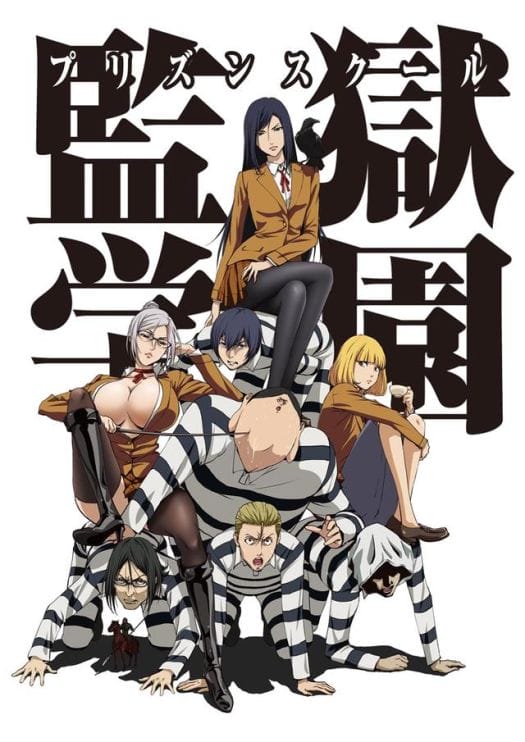 In addition to the casting news, a new promotional video for the series was uploaded to the official Prison School anime website.
Prison School is based on Akira Hiramoto's comedy manga of the same name. Yen Press currently holds the rights to the manga series in North America, which they describe as follows:
Hachimitsu Private Academy was a revered and elite all-girls' boarding school on the outskirts of Tokyo…once upon a time. But with the new school year comes a revision to school policy: Boys are to be admitted into the student body for the first time ever. But on his first day at Hachimitsu, Kiyoshi Fujino discovers that he's one of only five boys enrolled at the school. Their numbers overwhelmed by the thousand girls in the student body, is it heaven or hell that awaits these five (un)fortunates?!
The Prison School anime series will begin airing this July on Tokyo MX, KBS Kyoto, Sun TV, TV Aichi, and BS 11.
Character Designs
Source: Comic Natalie