TMS is getting close to spilling this Monster Secret!
Earlier today, the company posted the first teaser for Jitsu wa Watashi wa… (My Monster Secret). The 60-second preview gives a sample of Natsuki Hanae and Yū Serizawa's performances as Asahi Kuromine and Yōko Shiragami, respectively. The piece also offers a short preview of opening theme Himitsu o Chōdai by Ars Magna.
Jitsu wa Watashi wa… is based on Eiji Masuda's manga of the same name. The series is being directed by Yasutaka Yamamoto (Servant × Service) at TMS Entertainment. Hirotaka Marufuji (Aquarion Evol, Nobunaga The Fool) is handling the show's character designs.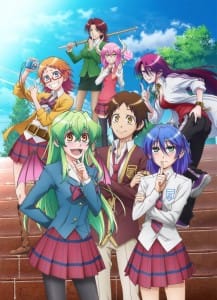 The confirmed voice cast is as follows:
Asahi Kuromine: Natsuki Hanae
Yōko Shiragami: Yū Serizawa
Nagisa Aizawa: Inori Minase
Mikan Akemi: Reina Ueda
Shiho Shishido: Aya Uchida
Akane Kōmoto: M.A.O
Akari Kōmoto: Emi Nitta
Okada: Daisuke Hirakawa
Shimada: Hiro Shimono
Sakurada: Wataru Hatano
Last month, the official Jitsu wa Watashi wa… anime website confirmed that the series will kick off on July 6. The full schedule is as follows:
TV Tokyo: 7/6/2015, 25:35~ (7/7/2015, 1:35AM)
TV Osaka: 7/6/2015, 25:35~ (7/7/2015, 1:35AM)
TVQ Kyushu Housou: 7/6/2015, 26:00~ (7/7/2015, 2:00AM)
TV Hokkaido: 7/7/2015, 25:35~ (7/8/2015, 1:35AM)
TV Aichi: 7/9/2015, 26:05~ (7/10/2015, 2:05AM)
TV Setouchi: 7/9/2015, 26:15~ (7/10/2015, 2:15AM)
The first key visual hit the web in March, which was quickly followed by a second visual and a series of character design sheets. You can check these out below:
In North America, Seven Seas holds the rights to the Jitsu wa Watashi wa… manga series. The first volume will hit stores on January 12, 2016 under the title My Monster Secret. The company describes the series as follows:
High school student Kuromine Asahi is the kind of guy who literally cannot tell a lie. Whether it's trying to maintain a poker face in a simple game of cards, or keeping scurrilous gossip to himself, Asahi is a total failure when it comes to the art of deception.

So what happens when he stumbles upon the most shocking secret of his life? When Asahi learns that Shiragami Youko, a beautiful girl of few words, is actually a vampire. Can Asahi possibly keep his lips sealed?
Source: Crunchyroll