Candy stores and chaos seem to go hand in hand. At least, they do in this case!
The latest compiled volume of the Dagashi Kashi manga unveiled new staff and broadcast information about its upcoming anime adaptation.
The series will kick off in January 2016, on TBS and BS-TBS. The World God Only Knows director Shigehito Takayanagi is helming the series at studio feel. Takayanagi will also oversee the show's scripts with Yasuko Kamo (Galaxy Angel A). Character designs will be handled by Kanetoshi Kamimoto (Burst Angel).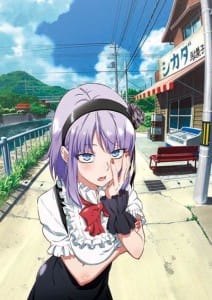 The Dagashi Kashi anime series was first unveiled last month, in the pages of Weekly Shonen Sunday. The series will adapt Kotoyama's manga of the same name, which began publication in 2014.
The series follows Kokonotsu, an aspiring manga artist who's reluctant to take over the family business. His family runs a traditional "dagashi" (penny candy) store, which isn't exactly the most exciting of professions. A girl named Hotaru, who adores small-time candy shops like the one ran by Kokonotsu's family, appears at the store one day. She isn't just a one-and-done customer, rather she continues to show up day after day to convince Kokonotsu to take charge of the location.
Source: Otakomu