Kirito and Asuna's adventures aren't over just yet!
Earlier today, Aniplex of America started streaming a new trailer for Sword Art Online The Movie -Ordinal Scale-. The 53-second teaser hints at the adventure to come, while revealing a 2017 theatrical roadshow for the project.
In addition to the trailer, Aniplex opened an English website for the film, which offers a brief explanation of new concepts introduced within the film. Specifically, the site highlights both the "Augma" and Ordinal Scale.
Ordinal Scale is the name of a new game, which was released after Sword Art Online and Gun Gale online. Aniplex describes the game as follows:
"Ordinal Scale," an ARMMO-RPG that was designed exclusively for "Augma." Following its release, it has become the most discussed game due to its advanced technology. In this game, players can raise their rank by collecting items that appear in various places in the real world and by defeating monsters. This "Ranking System" is the main feature of the game, and in this system, each player's status is determined by their rank which is indicated by an ordinal number instead of a cardinal number. As the result, high ranking players are given overwhelming power and often rank has become a major factor in deciding the outcome of a PvP battle.
Ordinal Scale will be played with a new augmented reality device known as an "Augma". The website describes the device as follows:
A next-generation, wearable multi-device that looks like a pair of small headphones. In terms of size and portability, it is far superior to the existing VR machine "Amusphere." Augma doesn't have a full-dive function, however, its AR function is greatly enhanced to compensate for it. It can transmit visual, audio and tactual sensation data to players while they are awake, thus enabling the users to enjoy fitness and health management like a game.
A new key visual for the project was released, which you can check out below.
The site also includes a pair of character designs, which feature Kirito and Asuna in their Ordinal Scale costumes. The art was produced by light novel illustrator abec.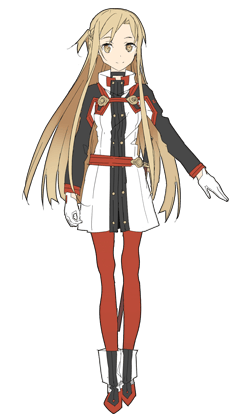 The Sword Art Online movie was first unveiled at the Dengeki Bunko Autumn Festival on October 4. Tomohiko Itō is directing the feature at A-1 Pictures, with character designs by Shingo Adachi. Series creator Reki Kawahara is penning the film's story.
Aniplex of America currently holds the rights to the Sword Art Online TV series in North America, as well as sequel Sword Art Online II and the Sword Art Online EXTRA EDITION theatrical film. The series is available for streaming in its entirety on Crunchyroll.
Source: Twitter (AniplexUSA)