It's as if a million anime writers cried out in terror and were suddenly silenced.
The latest collected volume of Nanae Chrono's Peacemaker Kurogane (Volume 11) reveals that the series' "Shinsaku" arc will receive an anime adaptation. Though few specifics are known as of press time, the title will be produced by studio White Fox.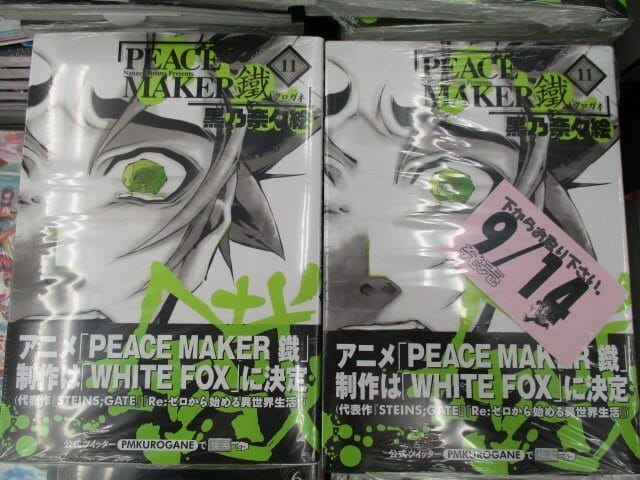 Volume 10 of the manga, which hit retailers in April, originally confirmed that an anime project based on the property was greenlit for production.
Peacemaker Kurogane is an ongoing series, which began publication in Mag Garden's Monthly Comic Blade magazine in 2001, where it ran until July 2014. The title returned to publication in September of the same year, in the pages of Monthly Comic Garden.
The series is a sequel to the five-volume Shinsengumi Imon Peace Maker, which ran in Enix's Monthly Shōnen Gangan from May 1999 through September 2001.
Gonzo Entertainment produced a 24-episode anime adaptation of Peacemaker Kurogane, which aired in the Fall 2003 and Winter 2004 broadcast seasons. Tomohiro Hirata (Trinity Blood) helmed the project, with Akemi Hayashi (Fruits Basket, Angelique: Seichi Yori Ai o Komete) producing character designs. The team of Hiroshi Yamguchi and Nahoko Hasegawa wrote the show's screenplay.
ADV originally released the Peacemaker anime on DVD in North America. Funimation later acquired the rights to the show, and currently offers it on home video and their FunimationNow streaming service. They describe the show as:
After the horrific murder of his parents, young Tetsu embarks on a quest for vengeance that threatens to consume his soul. His journey leads him to the inner sanctum of the Shinsengumi, a prestigious order of swordsmen at war with the very villains who cut down his mother and father. Tetsu's samurai training gives him the strength to seek revenge, but it also opens his eyes to a painful truth: his new allies are responsible for just as much bloodshed as his sworn enemies. Armed with this knowledge, Tetsu must make the most difficult choice of his life. Will he draw his sword and yield to his demonic urges – or follow in the footsteps of his father and become a true peacemaker?
Source: Moetron (Thanks to L.B. Bryant for the tip!)