Ain't nothin' like a Pine Jam casting party 'cause a Pine Jam casting party don't stop. Or something.
Earlier today, the official Just Because! anime website updated with nine new cast reveals. The following will join the list of confirmed roles:
Yoriko Inui: Arisa Sakuraba
Sanae Takahashi: Yuka Nukui
Tooka Suzuki: Reina Kondo
Mayuka Satou: Sayaka Senbongi
Junpei Saruwatari: Kouhei Amasaki
Rikuto Ishigaki: Shouta Yamamoto
Tooru Shimizu: Junichi Yanagita
Kaoru Yamaguchi: Daiki Kobayashi
Watanabe-sensei: Toru Ohkawa
Visuals for the new players were also released, which you can check out below:
Just Because! will hit Japanese TV in October. The full première schedule is as follows:
AT-X: 10/5/2017 at 21:00 (10/5/2017 at 9:00PM)
Tokyo MX: 10/5/2017 at 23:30 (10/5/2017 at 11:30PM)
TV Kanagawa: 10/5/2017 at 25:00 (10/6/2017 at 1:00AM)
MBS: 10/6/2017 at 26:55 (10/7/2017 at 2:55AM)
BS Fuji: 10/10/2017 at 24:30 (10/11/2017 at 12:30AM)
The show is an original project from studio Pine Jam. Atsushi Kobayashi was tapped to direct the project, with Hiroyuki Yoshii (Tawawa on Monday) providing character designs. Hajime Kamoshida (The Pet Girl of Sakurasou light novels) is in charge of the title's scripts.
Other confirmed crew members include:
Original Character Design: Kiseki Himuro
Music Producer: Nagi Yanagi
The confirmed voice cast includes:
Eita Izumi: Aoi Ichikawa
Mio Natsume: Karin Isobe
Yōto Sōma: Taishi Murata
Hadzuki Morikawa: Yuna Yoshino
Ena Komiya: Lynn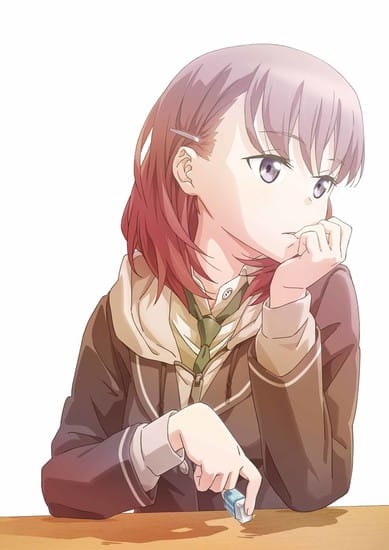 Pine Jam first teased Just Because! with a series of flyers, which were passed out on April 1. An official website did open at the time, though it had closed its doors shortly afterwards.
Pine Jam describes Just Because! as:
It's the winter of their third year in high school, close to the end of the second semester, when students have little time left in their high school life. Everyone was just counting the days until graduation.

Then he suddenly came home.

He was their middle school classmate who moved far away. And yet, they were reunited by this peculiarly timed transfer. It was as if a signal chimed out to the emotions of these students, who thought they'd end their high school life with little commotion.
Pine Jam previously released a visual and descriptions for the major characters. The image features the following characters from left to right:
Hazuki Morikawa
Haruto Soma
Mio Natsumi
Eita Izumi
Ena Komiya
Previously, Pine Jam released a trio of promo videos to promote Just Because!. You can check these out below:
Source: Ota-suke