So, ah… why do I get the feeling that this isn't a series that people think hard about?
Earlier today, the official The Master of Ragnarok & Blesser of Einherjar (Hyakuren no Haō to Seiyaku no Valkyria) anime website announced that the series will hit Japanese TV in July 2018. In addition, the site updated with several character visuals, which you can check out below:
Kōsuke Kobayashi (Alice or Alice) will direct The Master of Ragnarok & Blesser of Einherjar anime at EMT Squared, with Mariko Ito (Anonymous Noise, Log Horizon) providing character designs. Natsuko Takahashi (Hakyū Hōshin Engi, Yuyushiki) is in charge of series composition for the project.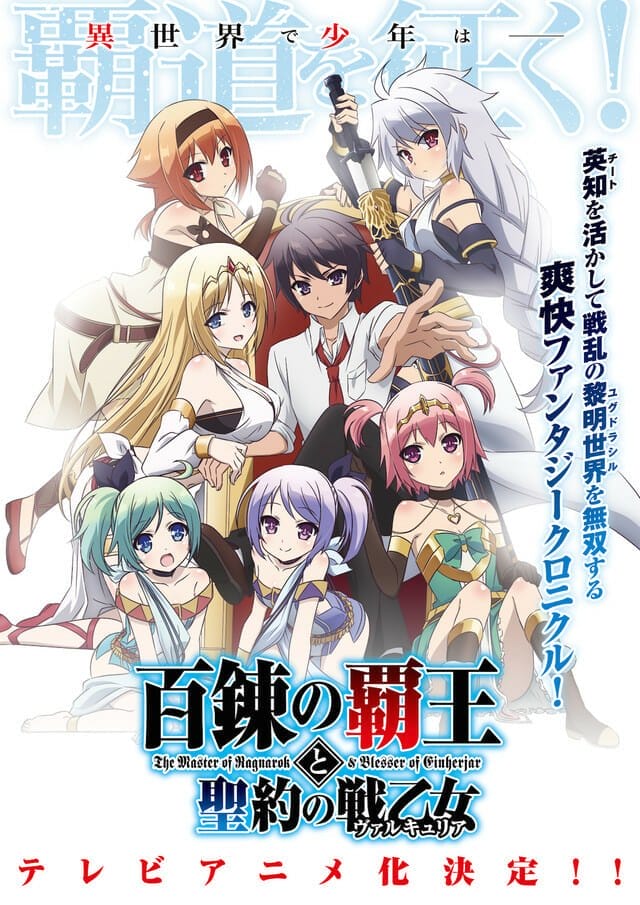 The confirmed voice cast includes:
Yūto Suoh: Kōdai Sakai
Albertina: Aoi Yūki
Sigrun: Arisa Date
Mitsuki: Aya Uchida
Christina: Ayana Taketatsu
Ingrid: Maki Kawase
Felicia: Rie Suegara
Linnea: Yurie Funato
Seiichi Takayama and illustrator Yukisan's The Master of Ragnarok & Blesser of Einherjar originally launched under Hobby Japan's main imprint on July 31, 2013. Fourteen volumes have been released to date, with the most recent shipping to retailers on Halloween 2017.
J-Novel Club currently holds the rights to the title, which they describe as:
Some urban legends are best left untested! Yuuto Suoh gets more than he bargained for when he joins his childhood friend Mitsuki Shimoya in testing out an urban legend. When he uses his phone to take a picture of himself with the local shrine's divine mirror, he is whisked off into another world – one heavily steeped in the lore of the old Norse myths. Using his knowledge gained from school and from his solar-powered smartphone, he has the chance to bring the Wolf Clan, the same people who cared for him, to prominence, all while earning the adoration of a group of magic-wielding warrior maidens known as the Einherjar.
Sources: MoCa News, Comic Natalie