It's time to dust the front desk and put up the "Open" sign. This quirky inn is almost open for business.
Earlier today, the official Okko's Inn (Waka Okami wa Shōgakusei!) anime film's website updated with a new teaser trailer and poster visual.
We break the details down below:
Trailer
The 30-second promo introduces the major plot beats, as character dialogue and a narrator provide the major story beats.
Key Visual
The new image is based on an image board by director Kitaro Kousaka. It features Oriko "Okko" Seki standing in front of the inn with a broom.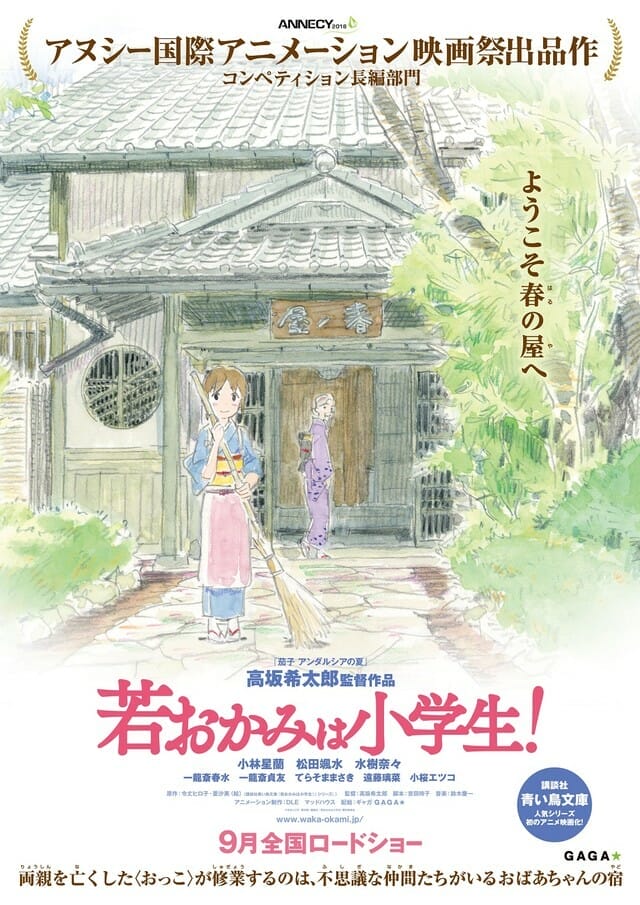 Okko's Inn will make its world debut at the Annecy Film Festival, which runs from June 11 – 16 in Annecy, France. The feature was voted as an Official Selection in Competition for the Feature Films category.
The feature will hit Japanese theaters in September. A TV series based on the project launched on TV Tokyo on April 8.
Kitaro Kousaka (Nasu: Summer in Andalusia, Clover) was tapped to direct the film at Madhouse and DLE, with Reiko Yoshida (Aria the Animation, Violet Evergarden) writing the script. Other confirmed crew members include:
Animation Director: Shunsuke Hirota
Art Setting: Kyōko Yauchi
Hiroko Reijō and illustrator Asami's Waka Okami wa Shōgakusei! books first hit retailers in 2003, under Kodansha's "Aoi Tori Bunko" imprint. The series ran through 2013, spanning twenty volumes, plus seven spinoff books and a short story collection.
Reijō launched a manga adaptation, which features illustrations by Eiko Ōuchi, in Nakayoshi magazine in 2006. To date, seven compiled volumes have been published, with the most recent hitting stores on February 2012.
According to news outlets, the film will feature an original story, not found in the manga or books.
Sources: Comic Natalie, Ota-suke