Content Warning: Nudity, Sexual Themes
Earlier today, the official As Miss Beelzebub Likes (Beelzebub-jou no Okinimesu mama) anime website updated with a new teaser trailer, as well as details on a promotional campaign with convenience store chain Animate.
We break the details down below.
Trailer
The minute-long promo introduces the main story concept behind the series, as well as the main voice cast. The series also confirms that Kikuko Inoue, who narrates the trailer, will serve as the main narrator for the series. Theme song Pink Lemonade by Sangatsu no Phantasia plays as a background track.
Note: The trailer is Not Safe For Work due to explicit nudity starting at the the 22-second mark, and running through the 29-second mark.
Promo Campaign
A retail campaign with Animate will kick off on September 10. Posters of the main characters, clad in Animate aprons, will be posted in stores, and standees will be erected. The new trailer will be played in stores, as well as select character trailers.
A visual for the promotion was revealed, which features Beelzebub, Murin, and Moofy. You can check out below.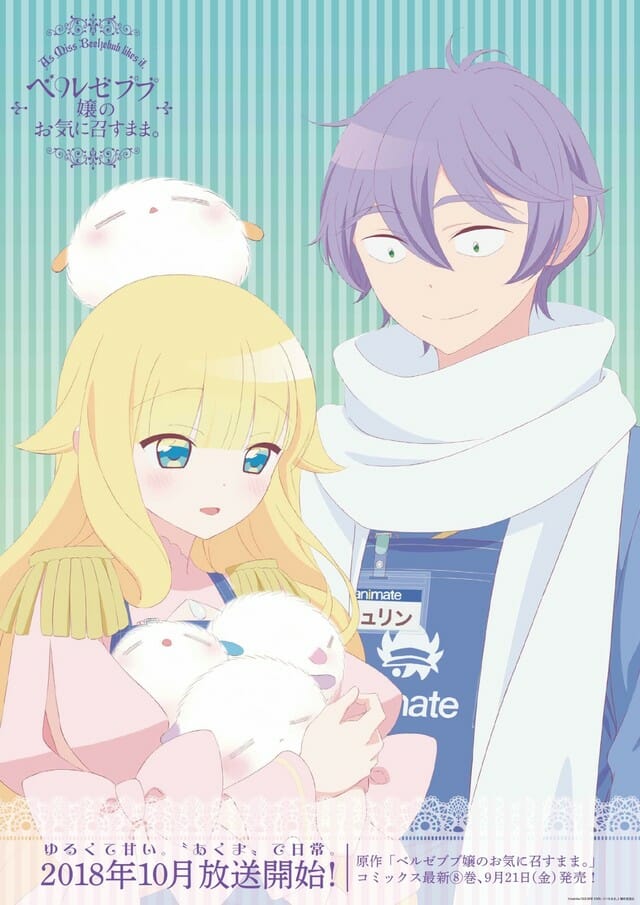 As Miss Beelzebub Likes hits Japanese TV on October 10. The full premiere schedule is as follows (All times JST):
ABC TV: 10/10/2018 at 26:50 (10/11/2018 at 2:50AM)
Tokyo MX: 10/13/2018 at 24:30 (10/14/2018 at 12:30 AM )
Gunma TV: 10/13/2018 at 24:30 (10/14/2018 at 12:30 AM )
Tochigi TV: 10/13/2018 at 24:30 (10/14/2018 at 12:30 AM )
BS11: 10/13/2018 at 24:30 (10/14/2018 at 12:30 AM )
TV Aichi: 10/13/2018 at 25:50 (10/14/2018 at 11:50 AM )
Minato Kazuto (Akashic Records of Bastard Magical Instructor) was tapped to direct the show at Liden Films, with Etsuko Sumimoto (Tsuredure Children, Yurikuma Arashi) providing character designs. Yoriko Tomita is in charge of series composition. Other confirmed crew members include:
Music: Kanon Wakeshima
Music: naotyu-
Sound Director: Satoshi Motoyama
Original Work: matoba
The confirmed voice cast includes:
Beelzebub: Saori Ōnishi
Murin: Rikuya Yasuda
Belphegor: Misaki Kuno
Azazel: Satoshi Hino
Sargatanas: Ai Kakuma
Dantalion: Aoi Yūki
Eurynome: Chinatsu Akasaki
Molech: Kazuyuki Okitsu
Astaroth: Yoshitsugu Matsuoka
Narrator: Kikuko Inoue
matoba's As Miss Beelzebub Likes manga launched in the pages of Square Enix's Monthly Shonen Gangan magazine in July 2015. The series currently spans seven compiled volumes, with Volume 8 slated to hit Japanese retailers on September 21.
Yen Press currently holds the domestic rights to the title, which they describe as:
Murin's lands his dream job with the demon king he's always held in awe, but when his tenure begins, it turns out the demon king isn't quite what he expected…
Source: Comic Natalie