In the year 2023, it's hard to imagine that the state of Rhode Island would have anything to offer the greater anime fandom. As the smallest state in America, it has a total population that's smaller than nine US cities, making it little more than a pinprick compared to the rest of the United States. Still, in 1986, the state played host to one of the largest anime clubs in North America at the time: Anime Hasshin!. Anime Hasshin!, which was founded in the town of Warren by Lorraine Savage, quickly grew into one of the largest national anime clubs in the country. The organization's fanzine, The Rose, was a celebrated publication that connected fans and tape traders alike, and the club itself became a vibrant community of new and old fans, until its closure in 2021.
It was here that the New England Anime Society sought to make history by hosting the Ocean State's first-ever anime convention at the Rhode Island Convention Center. Dubbed the Providence Anime Conference, the event sought to be a refuge for adult-aged fans, with a 21+ requirement and programming block tailored to folks who wanted something different from what they could find at Anime Boston. The team anticipated roughly two-thousand attendees for the show but were greatly disappointed when just over two hundred attended. Still, it would prove to be an unforgettable experience for those who managed to come, with rare screenings by Neil Nadelman, bartenders who were very generous with their pours, and probably the drunkest-ever audience watching the slow-rolling dumpster fire, Titanic: The Legend Goes On. It was a total disaster for the dealers. Sadly, the convention would become the last that the Ocean State would see for more than fifteen years.
In the summer of 2023, Altered Reality Entertainment brought a new show to Rhode Island. Ultimately dubbed RI Anime Con, the organization sought to fill the void using expertise it has gained running comic and horror conventions. Altered Reality Press Relations Manager Susan Soares had a lot to say. "For the past, I want to say, four or five years, we've had a lot of voice actors come to Rhode Island Comic Con, and they do really well with the fans. So that's what prompted us to start Island Anime Con, because there wasn't one. And that's kind of our thing, where we came into Rhode Island to start Rhode Island Comic Con, because there was no pop culture event in the state. And the same thing with anime. There's nothing in Rhode Island of that nature. So, it's a perfect breeding ground for us. We have the foundation, we're in the same venue that we have Rhode Island Comic Con, and we know the staff here. It was just a perfect combination."
While Altered Reality's experience running comic and horror events served the convention well throughout the weekend, their inexperience with anime-centric events quickly became apparent. Moreover, a number of unforced blunders on their part would hang over the event like a pesky cloud.
What's In A Name?
In the early 1990s, the anime world was in a much, and literally, different place. The convention as we know it had yet to gain a foothold in North America, and the best place to encounter the greater anime community was in the public libraries, community centers, and meeting halls where the local clubs had set up shop. Still, a few cons had been run throughout the '80s, starting with 1983's Yamato Con in Dallas, Texas. The one-day event, which was held at The Harvey House, became a revelation for the then-nascent community, sparking lifelong friendships and inspiring incredible feats of creativity, such as Steve Harrison and Ardith Carlton's Space Fanzine Yamato magazine.
This prototypical event would drive others to do the same across the country, starting in 1990 with Project A-Kon in Richardson, TX. A year later, San Jose, CA would host the nation's fourth-ever anime convention, AnimeCon. The four-day event welcomed roughly 2,000 attendees over Labor Day weekend, as western guests like Streamline Pictures cofounders Carl Macek (Robotech) and Jerry Beck rubbed elbows with industry giants, such as character designer Haruhiko Mikomoto (Super Dimension Fortress Macross, Gunbuster). The event would ultimately lay the foundation for the infamous Anime Expo, which debuted one year later.
After the early nineties, the convention scene caught on fast, and eventually made its way to the east coast. Otakon, the first major event in Washington, D.C., was held over the final weekend of July in 1994. The convention, hosted at Pennsylvania's Days Inn Penn State, welcomed more than 350 attendees and featured nearly a dozen guests, including Anime Hasshin! Founder Lorraine Savage and translator C. Sue Shambaugh (The Legend of the Galactic Heroes, Arc The Lad III).
The name "Otakon," of course, is a portmanteau of the words "Otaku" and "Convention": an "Otaku Con," if you will. Over the years, numerous events have attempted to use "OtakuCon" for their local events, including 2005's KuniCon, which proudly bore the name "OtakuCon Miami Beach" until it was served a cease-and-desist notice by Otakon's parent company, Otakorp.
The most recent convention to make a bold attempt to bear the OtakuCon mantle arose last year, in none other than Rhode Island. From June to October 2022, Altered Reality's upcoming convention operated under the name Otaku Con Providence, using the previously trademarked elements in promotions, advertising, and the parent company's homepage. They even registered it with GrowTix, the organization that would handle the convention's ticketing and scheduling functionality.
Meanwhile, Otakon's own event, which was confirmed on August 1, 2022, was planned to be held from July 28 – 30, 2023—the very same weekend as 'Otaku Con Providence.'
Then, according to data provided by FanCons.com—the internet's largest resource for fan conventions—there was a five-day span during which they tried to use the name "RI Anime Expo." According to FanCons, Altered Reality submitted a request to change the convention's name from "Otaku Con" to "RI Anime Expo" on October 7, 2022. Though the Anime Expo branding also proved problematic, as Anime Expo retains and enforces an active trademark on the name, it appeared in regional marketing materials, with users on Twitter reporting that they had spotted posters for the event in the Providence Place Mall's parking garage as recently as April 1, 2023. Despite filing for a more available trademark on their final name by October 31, as of press time, "RI Anime Expo" is still actively listed in the Altered Reality Entertainment app's description in the App Store's, as well as Google Play Store's, descriptions.

But let's backtrack a few days from October 31, 2022, when Altered Reality filed for their final name, RI Anime Con, to October 25. On that day, they also moved to trademark the generic term, "Anime Con." This sparked outrage among members of the anime community, with Twitter user Elfie detailing the potential impacts of the trademark's granting.
When asked about their trademark filings, Altered Reality Press Relations Manager Susan Soares explained that "as far as we know, there was no copyright for 'RI Anime Con.' That's the official name that we trademarked."
But the first filing, on October 25, mentioned nothing of a Rhode Island-specific 'Anime Con', and the US Patent Office issued a non-final action on May 13, saying, "Registration is refused because the applied-for mark merely describes a feature of applicant's goods and/or services. Trademark Act Section 2(e)(1), 15 U.S.C. §1052(e)(1); see TMEP §§1209.01(b), 1209.03 et seq"
The decision went on to add definitions for the terms "anime" and "con," noting that "The mark describes a feature of the services, being that they are conventions featuring anime." Enclosed with the decision are more than a half-dozen screenshots to illustrate the Patent Office's point, referencing standard, easy-to-find sources such as the Merriam-Webster online dictionary, AbbreviationFinder.com, and Wikipedia.org.
Altered Reality Entertainment had until August 15, 2023, to file a response to the rejection.
Six days after filing for a trademark on the generic term, Altered Reality launched an updated website bearing their final name, "RI Anime Con," and it is that convention which we attended.
Exploring RI Anime Con
Upon entering the checkpoint of the Rhode Island Convention Center, visitors were greeted by the spacious hallways of the venue. Silkscreened displays of various anime properties such as Naruto and Dragon Ball Z had been erected across from main event halls. Unfamiliar with these specific kits, I went in for a closer look. There were no copyright notices for Toei, Crunchyroll, VIZ Media, or other relevant parties on any of these. A VIP lounge, for attendees who purchased a VIP badge, was set up at the far end of the hallway.
Much of the event was held in Ballrooms A, B, and C, which is an open, combined space arranged much like the typical Dealer's Room. Dozens of stalls flanked one another, forming corridors of artists and vendors to serve eager shoppers.
Tables were set up along the hall's far wall, offering an open space for fans to meet icons like Linda Ballantyne (Sailor Moon), Lisa Ortiz (The Slayers, Sonic The Hedgehog), and Bryce Papenbrook (Attack on Titan, Cyberpunk: Edgerunners).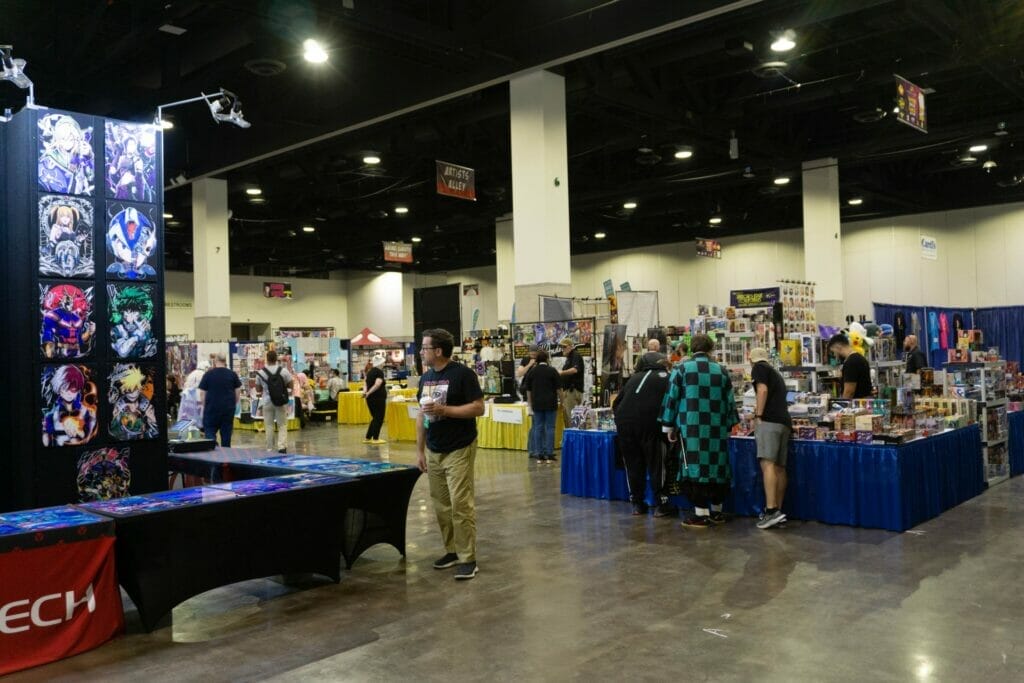 The early hours of the event were remarkably quiet, as artists and vendors chatted with one another while putting the final flourishes on their tables. It wasn't long before the early stillness broke and hundreds of attendees filtered into the room. By noon the floor was bustling, and storefronts were packed with enthusiastic shoppers. It was impossible to miss the blue Cardi's-branded shopping bags that hung at so many people's sides.
The relaxed atmosphere gave casual conversations an opportunity to flourish, and folks milled about from booth to booth, sharing quips from their favorite shows or pausing to ask one of the circulating cosplayers for a photo.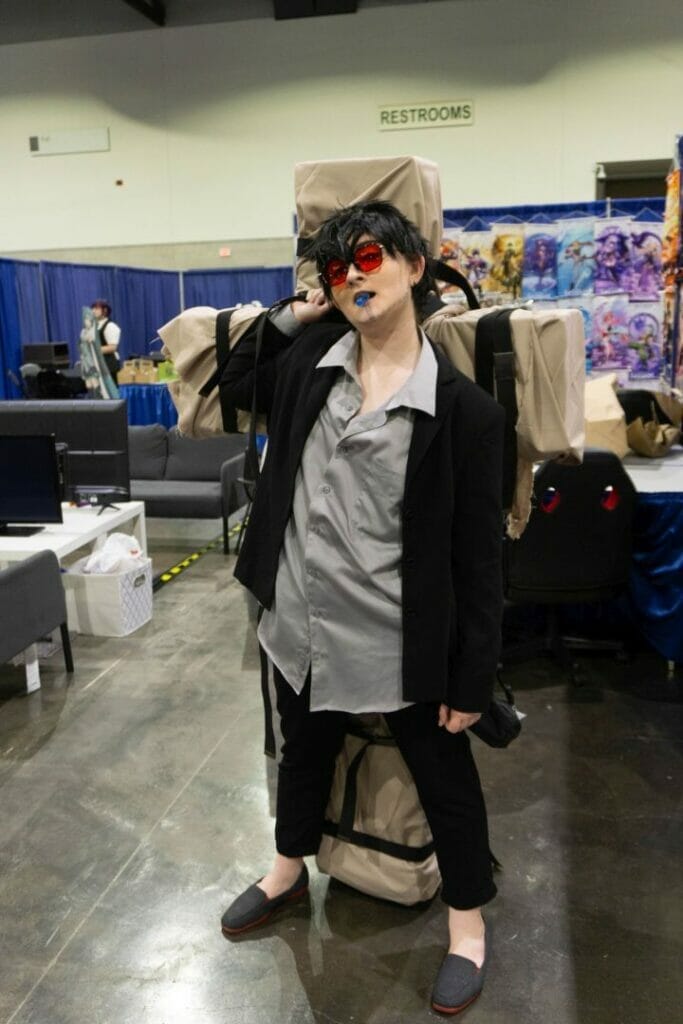 Staff handled the crowds that naturally formed with remarkable efficiency, contributing to the positive vibe of the event. Many on the team were veteran workers from previous Altered Reality events, and they showed genuine skill in wrangling clumps of people and maintaining lines. Even the busiest autograph booths were well-maintained and orderly.
Chatting With Vendors and Artists
The event proved to be a boon for both dealers and artists, who reported strong sales and a friendly, welcoming atmosphere. I spoke with vendors throughout the exhibition hall, who were unanimous in their praise of the event.
"It's been great," remarked Carlos, who co-owns All Things Anime with his partner. "A lot of people, a lot of anime fans, good conversations. Everyone's been friendly, everyone's been, like, from what I've experienced with anime in general, it's just one big culture." He likened the feeling to 'coming home' and added that he intends to return for next year's event. Score!
Ratshien, a multimedia artist who had previously tabled at smaller events, expressed a similar optimism. He explained that RI Anime Con was his first "big, like heavy foot-traffic anime convention," and he was initially scared to commit to come. He expressed pleasure with the overall vibe, explaining that he likes being able to chat about the characters he draws with random people. "I think it's nice to be able to hold conversations. It's just not something you get a lot. Like people don't just like, walk up to you and talk about their interests to you." He continued the joke, saying, "I can't just get out in the bar, like, nobody's gonna come up and start talking to me about, like, Venture Bros at the bar for like ten minutes." He added that he enjoyed the idea of returning next year, but wasn't certain he'd be able to due to table fees.
Likewise, artist DonutDoodles was enthusiastic about their performance, noting that sales were beyond expectations and that they were pleased with the performance of a stamp rally that they had hosted with other artists. They, too, would like to return, adding that they had already signed up for next year.
Anime Herald was unable to obtain impressions from the event's celebrity guests, as the press was forbidden from approaching them during the convention—a first in this reporter's twenty-one years of covering conventions as a member of the media.
Programming & Panels
While the event held positive experiences for shoppers and vendors, it offered very little for those looking to enjoy the normal convention staples of fan panels or game shows. RI Anime Con featured three main gathering spaces for these over the weekend: a large auditorium off to the right of the exhibition hall ("Main Stage"), a small booth set up at the back of the main hall ("Secondary Stage"), and a larger, isolated space near the entrance, mysteriously known as "Booth 100."
Fascinated by the name, I quickly went to check it out, and found a venue for speed dating. Speed dating falls outside of Anime Herald's expertise, but I did learn that the booth hosted seven 90-minute sessions over the two-day convention—ten and a half hours over the course of two days. Moving on.
The Main Stage was used exclusively to host marquee panels featuring celebrity guests like voice actors and TikTokers, as well as the Saturday night rave.
Fan panels were relegated to the Secondary Stage and granted a strict 45-minute run time, which, at fifteen minutes shorter than the standard sixty, required volunteer presenters to retool their programs for the event. They were greeted with a table, a microphone, and zero audiovisual outputs. Given that PowerPoints are a companion to many panels, this proved to be woefully inadequate. In one exemplary case, a panelist turned their 14-inch screen toward the audience and beseeched them to watch along as they paced, microphone in hand, trying to keep the multimedia presentation on their notebook intact.
Roundtable events like "Convention Horror Stories," without an actual presentation, fared far better. Attendees were clearly having fun while sharing their tales of con chaos over the years, from poorly-planned panels to unruly line experiences, to weirdos they encountered on the train ride to the venue. The same simple setup that had hindered multimedia panels proved more adequate for these, though they did not entirely escape unscathed, as the hosts were forced to compete with the voices of attendees standing outside the makeshift stage, not to mention the Maid Cafe next door.
Overall, the support for panels was deficient, and it immediately became apparent that the hosts would be unable to provide an engrossing experience for their audiences. Not only were panelists forced to shorten their presentations, but they were also required to perform in conditions that lacked the basic necessities they have come to expect over the past twenty years. Anything that wasn't a straightforward roundtable discussion was unable to make its intended impact, while distractions that were fully out of the presenters' control continued to pull the audience's attention away from the onstage events.
When handled well, a strong panel lineup can be a real draw for attendees. With the right setups and an environment where they can thrive, passionate creators—nearly all volunteers— can enrich a convention with engrossing content that the convention, itself, may not be able to provide. From lectures on yokai, to oral histories of anime fandom, and even discussions of so-called "disaster anime" like Gundoh Musashi, a well-maintained lineup will offer compelling alternatives to folks seeking something different from celebrities, shopping, and speed dating.
A strong panel scene encourages people to stay at the event longer, as they will move from presentation to presentation, and they will also be more apt to return in future years, and to invite more people with them, which translates to more tickets sold to guests, and more Dealer's Room sales overall. Plus, it turns the event from a shopping trip to an experience.
With this in mind, it is a sincere hope that RI Anime Con works to improve the panel experience for attendees and panelists alike, as they plan future events.
In Conclusion
When a good anime convention ends, one is often left with an unforgettable sense of satisfaction, colored by a pang of melancholy. There's often that lingering sensation of wanting to return to that vibrant, chaotic atmosphere that dominated the weekend, even though one is invariably glad to head home.
Unfortunately, RI Anime Con was unable to reach those highs. More than anything, the conclusion of the event inspired a general shrug of indifference, tinged with boredom. The appeal of the Dealer's Hall quickly waned, and the general content slate didn't offer enough to keep even this superfan invested for the entire day. After all, the allure of shopping only lasts for as long as one's money holds out.
Still, it's hard to deny that there is potential for RI Anime Con to become something significant. Despite its technical challenges, there is a sturdy foundation here. If the executive team takes feedback seriously and focuses on building the event for anime-specific fans as much as it has for the vendors and artists, they could handily grow into an unmissable convention in a few years' time. This time around, though, there were many hurdles that the team will need to overcome before it can be seen as anything more than a local curiosity.
Editor: Lydia Rivers