Welcome to our second installment of AniWeekly! We're still feeling out the kinks, so let us know what you like!
Let's start with a little shameless self promotion. Anime Herald is looking for a pair of DVD/Blu-Ray reviewers. If you think you can talk nerdy with us, feel free to drop us an application!
Who wants more Clannad? At this weekend's Japan Expo USA, Sekai Project announced that they'll release Visual Arts' Clannad (Full Voice Edition) on Steam. No date was announced, but Sekai Project is working with Key to localize Planetarian for a September 12 release.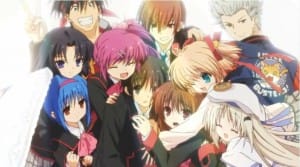 Welcome to Toonami, Alucard! FUNimation announced that Hellsing Ultimate will hit Adult Swim's Toonami block. The series will replace Black Lagoon in the 3:00AM Eastern (12:00AM Pacific) time slot. Each episode will be edited to adhere to a TV-MA rating, as well as to fit that 1-hour time slot.
By the way, have you heard that FUNimation's finally releasing the last two episodes in the west? That's right. The conclusion to this exceptional OVA finally hits on October 26!
That series that sparked an obsesion. What was the series that got you into anime? Was it The Slayers? How about Haruhi? Or was it something like Steins;Gate or Sword Art Online? In the name of science (and entertainment!), Charpedia polled its users to see what shows dragged them into the subculture. The results were surprising, to say the least.
Any Saori Hayami fans out there? Japanator published an interview with the Eden of the East and Anohana star. It's short, but definitely worth a read.
What are the doujinshi translation ethics? Lauren at Otaku Journalist published an article about the ethics of translating and distributing doujinshi, as well as the potential roadblocks that may arise in the process.
Looking to round out your weekend watch list? Manga Entertainment has the entire run of Super GALS! for free viewing on their YouTube channel. If you're on the fence about whether it's worth a watch, you might want to give our review a quick look.
Under the Dog, but over the top in promise. Earlier this week, we published an in-depth look at KickStarter project Under the Dog. In addition to a breakdown of the drive itself, we had a chance to interview the folks making it happen.
And now for something completely different: Have you heard of  #OperationPlatinum? The fan drive aims to drive a million sales of upcoming Wii U game Bayonetta 2 by raising awareness via social media and other means. Best of luck, everyone!
Your moment of zen. It turns out that practice actually doesn't make perfect. Go figure!
Weekly Fun Stuff: To celebrate Hellsing Ultimate's addition to the Toonami lineup, let's get a little AMV-ish in here! The selection below took Best Action at FanimeCon 2014. Just a warning for the squeamish: there IS  some gore!