Welcome, one and all, to a new edition of AniWeekly! This week, we're releasing on a day that's special to a lot of Love Live! fans. It's Umi Sonoda's birthday, and series enthusiasts across the globe are showing their love of the character through art, cosplay, and so much more!
So happy birthday, Umi, and kudos to the Love Live! crew for creating a series that's touched so many across the globe.
In The News
Is it really wrong to try and pick up girls in a dungeon? Well, the jury's still out, there. That said, though, the series got an official première schedule last week, with the first airing due to hit Japanese TV on April 3.
Harpies approve! The latest collected volume of Monster Musume announced that an anime series is in the works and due to hit the airwaves in July.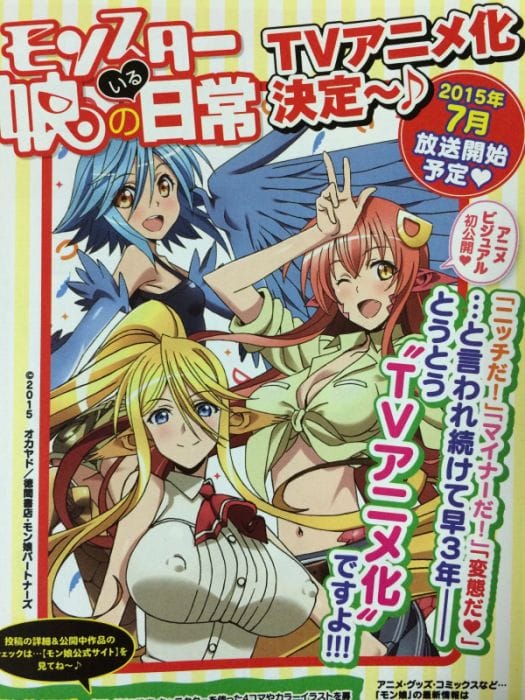 When Marnie wasn't there, after all. Last week, Arriety director Hiromasa Yonebayashi revealed that he left Studio Ghibli at the end of 2014. We wish him well in future endeavors!
We're goin' berserk! Popular web series Man at Arms recently took on Guts's sword from Berserk as its latest challenge. And, as always, it's just plain cool!
Those good old Maho Shonen Days. Toei and Frontier Works unveiled a new joint project, titled Mahō × Shōnen × Days!!!!! The franchise will kick off as a drama CD, which will be bundled with an animated promo video. The CD itself hits retailers on June 24.
Attack on Titan… Sony style? Last week, diligent fans dug up eight Attack on Titan related domain names, all registered to Sony Pictures. Whether this means anything or not remains to be seen, but it is an interesting discovery!
A farewell to a legend. Voice actor Shinji Ogawa passed away on March 7 due to bronchiolitis obliterans organizing pneumonia. He was 74. We'd like to offer our condolences to his family and friends.
From The AniBlogging Community
Training day! Otaku Review published their second Otaku In Training column. This week's subject? Puella Magi Madoka Magica. Jessica hoped that her second show wouldn't involve people getting eaten… oops!
Level up! If you haven't noticed, Crunchyroll's premium membership just added a laundry list of extra goodies. Sekijitsu takes a close look at what fans get for their $6.95 a month.
Otaku Journalist has a new book on the way! Last year Otaku Journalist owner Lauren Orsini released Otaku Journalism: A Guide to Geek Reporting in the Digital Age. It was an e-book that explained the ins and outs of fan journalism in a way that was both relatable and plain fun to read.
Last week, Orsini announced that she's back in action on a new book, specifically about anime blogging. We wish her the best, and can't wait to read it!
Behold, the Crunchycast! Crunchyroll started a podcast recently, and it's just great. Evan and Victoria are delightful hosts.
Weekly Fun Stuff
Who's up for a bit of speed-painting? Because it's Umi's birthday, we're doing it up a with little speed painting of the bashful beauty, courtesy of YouTuber Coldair.
For website wonks! As a double whammy for site owners, bloggers, and the generally curious: How much does the your favorite website cost every time you load it?
This Week's Featured Swag
Price: $58.00
This week, we're joining Eren as he attempts to reclaim Wall Maria. Eren's official figma is a gorgeous piece, with a fantastic sculpt, numerous points of articulation, and a 5.7-inch standing height.
The figure's accessories, which include the 3D Maneuver gear, dual blades, a survey corps cape, and several faces, allow fans to recreate almost any pose. Whether he's flying in for the attack, or standing in the military salute, the Eren figma is able to pull it off.
All purchases from the TWFS section help to support Anime Herald.