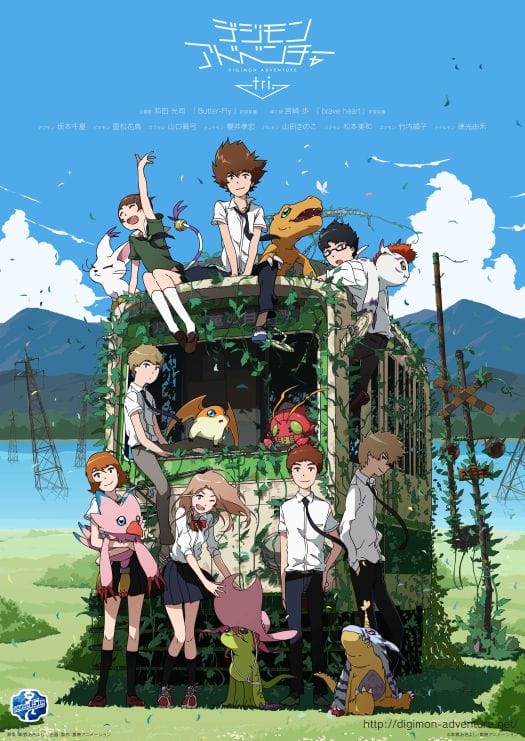 I'm sure some folks are shouting something right now…
Earlier today, Shout! Factory and Toei Animation announced that they've entered into a distribution agreement for the Digimon Adventure tri. films. Shout! Factory will distribute the first three movies on home video, which includes DVD, Blu-Ray, and digital sales.
The first film, Digimon Adventure tri. Part 1: Reunion, is slated to hit stores later this year.
Toei Animation President Masayuki Endo commented on the deal, stating:
Shout! Factory is an exceptional partner as we prepare to share the exciting new chapter of the Digimon saga with our fans across North America […] Digimon Adventure tri – Reunion not only reunites Digimon's talented cast and beloved characters, it reconnects the series with a generation of viewers, and perhaps even their children, who can't wait to follow the adventure into a new era.
Digimon Adventure tri. is slated to be a series of six theatrical films. Digimon Adventure tri. – Chapter 1: Reunion originally opened in Japanese theaters on November 21, 2015. The next film, subtitled Soshitsu (Loss), will hit Japanese theaters on February 25.
Keitaro Motonaga (Magic Knight Rayearth OVA, Jormungand) was tapped to direct the films, while Yuuko Kakihara (Heaven's Lost Property) served script supervisor. Character designs were provided by Atsuya Uki (Cencoroll).
Crunchyroll currently streams the first three Digimon Adventure tri. films on their digital platform. They describe the series as:
It's been six years since that summer adventure when Taichi Yagami and the rest of the DigiDestined crossed over to the Digital World. And nearly three years have passed since the final battle between Hikari Yagami's group and BelialVamdemon. As the peaceful days passed by, at some point the gate to the Digital World closed. Not even the DigiDestined know what caused this, and time alone continues to pass.
Eleven Arts will distribute the Digimon Adventure tri. films in a North American theatrical run. The company is producing a dub for the features, which reunite many of the original actors, including Mona Marshall, Jeff Nimoy, and Laura Summer.
The first feature debuted in North American theaters on September 15.
Source: Animation Magazine
Update 1/17/2017: We forgot to place the qualifier that this deal includes the first three films. Apologies for the mistake.