So, why stream the second trailer? Eh, just because.
Earlier today, Sentai Filmworks started streaming a subtitled teaser for Just Because! The 39-second promo is identical to the trailer that hit the web on June 29.
Just Because! will stream on Amazon's Anime Strike channel starting tomorrow. The title will hit Japanese TV on the following schedule:
AT-X: 10/5/2017 at 21:00 (10/5/2017 at 9:00PM)
Tokyo MX: 10/5/2017 at 23:30 (10/5/2017 at 11:30PM)
TV Kanagawa: 10/5/2017 at 25:00 (10/6/2017 at 1:00AM)
MBS: 10/6/2017 at 26:55 (10/7/2017 at 2:55AM)
BS Fuji: 10/10/2017 at 24:30 (10/11/2017 at 12:30AM)
The show is an original project from studio Pine Jam. Atsushi Kobayashi was tapped to direct the project, with Hiroyuki Yoshii (Tawawa on Monday) providing character designs. Hajime Kamoshida (The Pet Girl of Sakurasou light novels) is in charge of the title's scripts.
Other confirmed crew members include:
Original Character Design: Kiseki Himuro
Music Producer: Nagi Yanagi
The confirmed voice cast includes:
Eita Izumi: Aoi Ichikawa
Mio Natsume: Karin Isobe
Yōto Sōma: Taishi Murata
Hadzuki Morikawa: Yuna Yoshino
Ena Komiya: Lynn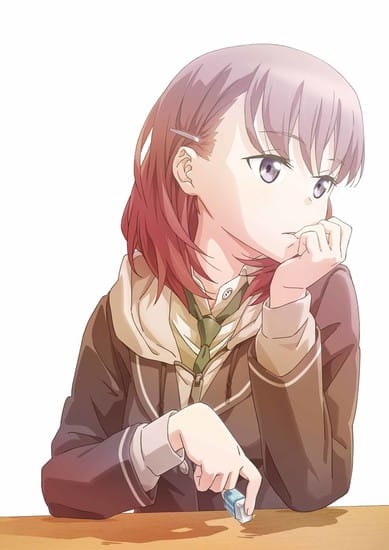 Pine Jam first teased Just Because! with a series of flyers, which were passed out on April 1. An official website did open at the time, though it had closed its doors shortly afterwards.
Sentai Filmworks describes Just Because! as:
Pine Jam previously released a visual and descriptions for the major characters. The top image features the following characters from left to right:
Hazuki Morikawa
Haruto Soma
Mio Natsumi
Eita Izumi
Ena Komiya
Source: YouTube (Sentai Filmworks)