Welcome, one and all, to AniWeekly! We took a week off, but we're back to give you the good stuff.
This week, we saw Toonami's lineup grow, while a prominent industry figure predicted the end of anime as we know it.
In The News
Michiko? Hatchin? Meet Toonami. At Wondercon, Toonami announced that they'll add Michiko and Hatchin and Akame ga KILL! to their broadcast lineup. Michiko & Hatchin will hit the block first, with a June 20 première. Akame ga KILL! will hit on August 8.
Seriously, though? Michiko & Hatchin is pretty awesome.
A prediction most dire. Hideaki Anno, Gainax co-founder and Evangelion co-creator, recently gave an interview with Russia's RIA Novosti. At one point, he made a most dire prediction, noting that the industry has from 5 to 20 years before an inevitable death.
Go, Speed Racer, go! Tatsunoko is working on a new Speed Racer series, which they hope will appeal to a "modern audience."
Mikuru beam! FUNimation pulled out all of the stops for its English dub of Disappearance of Nagato Yuki-chan. The company reunited the major cast from Bang Zoom!'s original dub for The Melancholy of Haruhi Suzumiya.
Nico nico nya~! Get ready, Love Live! fans! Sanrio announced that they'll be selling a line of Hello Kitty merch designed around the members of μ's.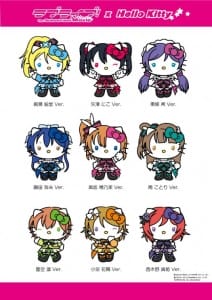 From The AniBlogging Community
Scandal rocks the House of Blues! No, not that kind of scandal! I'm talking about the popular J-Rock group. Dae from Otaku Review was at the show, and it looks like they brought down the house!
A tribute to awesome anime parents. Otaku Lounge takes a moment to highlight those unsung anime heroes: the awesome parents! From Chiyo's dad in Azumanga Daioh to Balsa in Moribito: Guardian of Spirit, Otaku Lounge covers the most popular parental units.
The Fanime Life. Missed out on FanimeCon? 魔法☆全開 (Magic ☆ Fully Open) has you covered. Mikoto delivers a fantastic write-up of the entire experience, from badge pickup to panels.
Weekly Fun Stuff!
The Sailor Moon experience, in a nutshell. The folks at Frederator put together a fun video that highlights 107 facts about Sailor Moon. Among the more popular ones, like localization changes and animation errors, the 20-minute feature also highlights more obscure bits.
Yes, "Saban Moon" is there.
This Week's Featured Swag
Price: $18
This classy, stainless steel mug is the perfect blend of form and function. The black NERV logo cuts a stunning profile against the brushed steel finish, as does the EVA-02 emblem on the reverse. It's a gorgeous blend of form and function that will stand up to all but the most stubborn beverages.
Well, that and an Angel's A.T. Field.
All purchases from the This Week's Featured Swag section help to support Anime Herald.